Sexual Harassment Training - Global Edition
Harassment and discrimination are pervasive problems that impact employee wellbeing and performance. Train your employees on the appropriate behavior to ensure a safe environment for all individuals in your organization.
Better everyday decisions
A workplace of mutual respect helps to protect your overall reputation and attract new employees while retaining the ones that have been loyal to your company for years.
Preventing Discrimination and Harassment: Global Edition covers these topics and more:
Sexual harassment
Discrimination
Understanding and preventing retaliation
Consequences of workplace discrimination and harassment
Bystander Intervention
Consensual relationships
Speaking up before situations escalate
The role of a manager/supervisor
Handling complaints
The importance of documentation
Overview
Preventing Discrimination and Harassment Training - Global Edition
Fostering a workplace culture that is free of sexual harassment, discrimination and retaliation is among the top challenges for employers today. For organizations with a diverse and distributed workforce, it can be especially challenging. Left unchecked, bad behavior can result in costly claims and penalties and other negative consequences that can hurt global recruiting and retention, employee health and morale, customer trust, organizational reputation and the bottom line.
An important step in reducing the risk of sexual harassment and other misconduct is providing employees with regular, interactive training. The right training program can be both a practical and strategic tool for organizations to communicate their expectations for ethical behavior and empower employees to recognize, report and prevent incidents of harassment and discrimination they may experience or observe.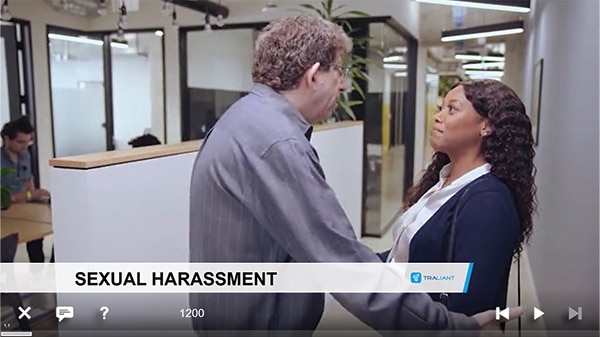 Online Training
Preventing Discrimination and Harassment - Global Edition
Traliant's award-winning Preventing Discrimination and Harassment training ensures employees are up to date on workplace compliance, conduct and culture topics. To ensure the training is relevant for your employees, we offer versions for the following work environments: learners engaged.
Bite-sized episodes, realistic video scenarios and eLearning exercises strengthen engagement and boost learning. Every year, we release a new version of the course, with new content, videos, actors and images, so employees don't have to repeat the same course year after year.
All of Traliant's courses can be translated into 100+ languages and tailored with an organization's branding, images, policies and video message.

The Traliant difference
At Traliant, we believe that training to prevent workplace harassment and discrimination should be engaging, relevant and valuable to your employees and managers. That's why we develop our award-winning training using the best elements of storytelling, video technology and eLearning strategies. As part of a holistic approach to preventing harassment and discrimination, Traliant's suite of products can help organizations reduce the risk of misconduct, promote positive behaviors and create and maintain a culture of respect, civility and inclusion.
Learn more about our training methodology

Introduce respect and kindness to employee interactions, and cultivate a safe working environment based on inclusion and mutual understanding to help your organization thrive.
Continuously Updated to Remain Compliant with the Law
In the wake of #MeToo, a number of states have passed or have pending legislation on mandatory training requirements for preventing sexual harassment in the workplace. Keeping track of this complex web of laws and regulations can be a challenge, especially if you have employees in multiple states. Traliant offers a streamline solution to manage training that is compliant with federal and state regulations.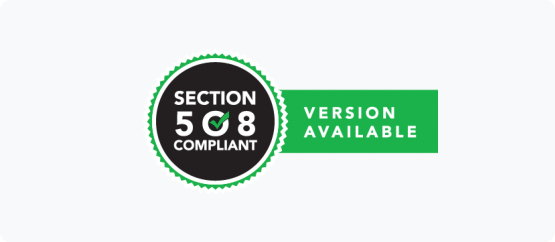 Section 508 Compliant version
Built for everyone
There is nothing more inclusive than providing an easy, consistent, and accessible experience for all of your employees. Traliant provides Section 508-Compliant training that detects and adapts to the individual learner. Our Preventing Discrimination and Harassment – Global Edition course is designed to accommodate a range of auditory, visual, intellectual, and kinesthetic abilities.
Help your employees make the right decisions, at the right moments