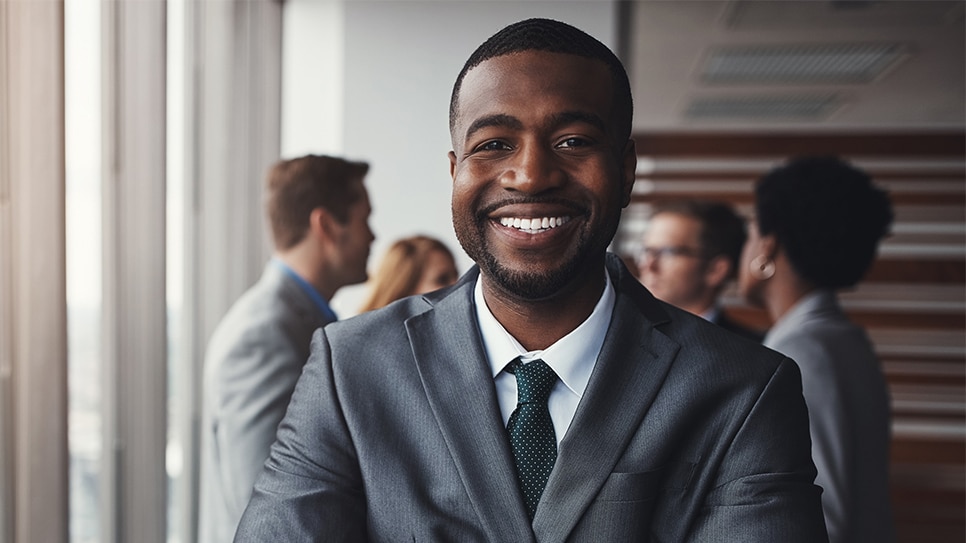 February 16, 2021
From interviewing and hiring to handling harassment complaints and requests for family leave, managers and supervisors need to be familiar with a wide range of policies, procedures, laws and regulations. To meet this challenge and stay up to date on changes, new and existing managers can benefit from ongoing training on employment law essentials.
Training managers on these 7 workplace laws provides a foundation for understanding their job responsibilities, creating a fair and compliant workplace and preventing violations and costly claims.
1. Interviewing and Hiring
Organizations must conduct all aspects of the recruiting, interviewing and hiring process in a fair and legal manner. Federal and state laws protect job applicants from discrimination based on race, color, religion, gender, national origin, age, disability and other characteristics. From writing job advertisements, to screening calls and resumes to interview questions, managers should know how to appropriately handle the aspects of hiring they are involved with.
2. Wage and Hour Laws
When it comes to compensation and overtime, managers should be familiar with the federal Fair Labor Standards Act (FLSA), as well as state and local laws that set standards for minimum wage, overtime pay, recordkeeping and child labor. The FLSA defines what types of work must be paid on an hourly basis and which jobs are exempt from overtime. It's important for managers and supervisors to know these rules before assigning employees extra hours as overtime to meet an approaching deadline.
3. Handling Harassment Complaints
Managers play a crucial role in preventing workplace discrimination, harassment and retaliation and should know their organization's specific policies and procedures for responding to complaints. This includes promptly reporting complaints, regardless of who is accused or their position within the organization, treating complaints confidentially and protecting employees who make good faith complaints from retaliation.
4. Preventing Retaliation
Employees who report workplace discrimination and harassment are protected from retaliation by law. Managers may not fire, demote, harass or otherwise retaliate against an individual for filing a complaint of discrimination, participating in a discrimination proceeding, or opposing discrimination. Other actions that may be viewed as retaliation include transferring a protected employee to a less desirable work location, scrutinizing a protected employee's work more closely than that of peers and firing a family member of a protected employee. Additionally, it's the manager's responsibility to ensure that non-supervisory employees do not engage in behavior that could be considered retaliatory.
5. Family and Medical Leave Act
Employees who are eligible for leave under the Family and Medical Leave Act (FMLA) may take up to 12 weeks unpaid, job-protected work leave during a 12-month period for the birth of their child, to adopt a child, or to care for their own or a specified family member's serious health condition. Managers may not penalize employees in any way for taking protected leave.
6. Families First Coronavirus Response Act
In April 2020, the Families First Coronavirus Response Act (FFCRA) was enacted to provide employees with paid sick leave or expanded family and medical leave for specified reasons related to COVID-19. Although the FFCRA's mandated paid leave requirement for employers expired on December 31, 2020, the US Department of Labor states employers may voluntarily extend the paid leave option until March 31, 2021 under the 2021 Consolidated Appropriations Act (CAA).
7. Reasonable Accommodations
Managers may receive reasonable accommodation requests to modify someone's working environment or job responsibilities to accommodate their disability or religious practices. The Americans with Disabilities Act (ADA) requires employers to provide reasonable accommodations to qualified applicants and employees with disabilities unless it would impose an undue hardship on the organization. Examples of disability accommodations include a deaf applicant needing a sign language interpreter, an employee with diabetes needing breaks to eat properly and monitor blood sugar levels, and an employee with cancer needing to leave for radiation treatments. Title VII of the Civil Rights Act requires employers to make religious accommodations, such as flexible scheduling, voluntary shift changes, job reassignments, and modifications to workplace policies pertaining to dress or grooming practices.
Traliant Insight
It's important for managers and supervisors to be aware of the employment rights workers have under federal, state and local laws, as well as their responsibility to comply with these rights in accordance to their organization's policies and procedures. Ongoing training that provides a basic understanding of key workplace laws helps to ensure organizations act safely, fairly and compliantly.