Active Shooter Training Courses for Businesses
Elevate your organization's emergency plan by preparing your employees for unforeseen circumstances and ensuring the safety of every individual in your workforce.
Better everyday decisions
Equipped with knowledge and composure, your employees will know how to recognize and respond to dangerous situations while ensuring the safety of everyone involved.
The Active Shooter Response Training Course covers:
Concepts endorsed by the US Department of Homeland Security
Behaviors that may indicate potential violence
Types of active shooter situations
Preparing and responding to an active shooter situation
Situational awareness
Role of managers
Role of law enforcement and how to respond
Reporting suspicions to HR
Overview
Active Shooter Response Training
Active shooter training is one of several proactive steps organizations can take to prepare employees and managers to respond appropriately to an active shooter incident. While the likelihood of an active shooter event is rare, all employees should know how to recognize the signs of potential violence and what their role is during an active shooter situation.
Active shooter training strengthens and reinforces an organization's emergency action plan and can help reduce the risk of an incident occurring.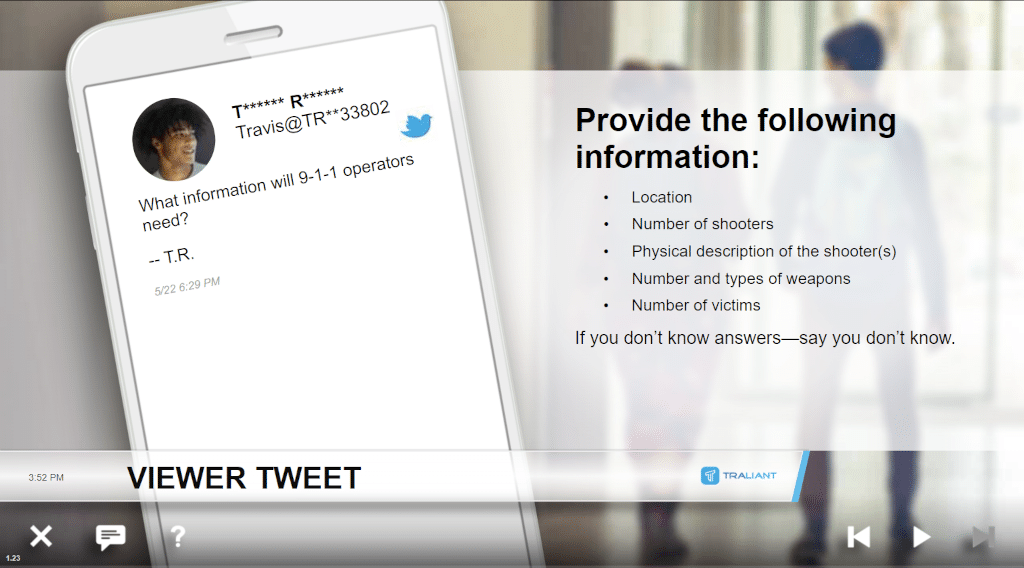 Online Training
Active Shooter Response
Active Shooter Response is a 20-minute, stand-alone course that teaches employees how to prepare for and respond appropriately to an active shooter incident at work. Newscaster commentary and interactive assessments and exercises reinforce the importance of being familiar with different types of situations and various ways to respond. The course is mobile-optimized and accessible on laptops, tablets and smartphones.

The Traliant difference
Traliant is dedicated to helping organizations create safe, respectful workplaces. Traliant's Active Shooter Response training course is designed to raise employee awareness of the signs of possible violence and provide insights and practical steps for responding appropriately to an active shooter event.
Learn more about our training methodology
You may be interested in other courses from the same topic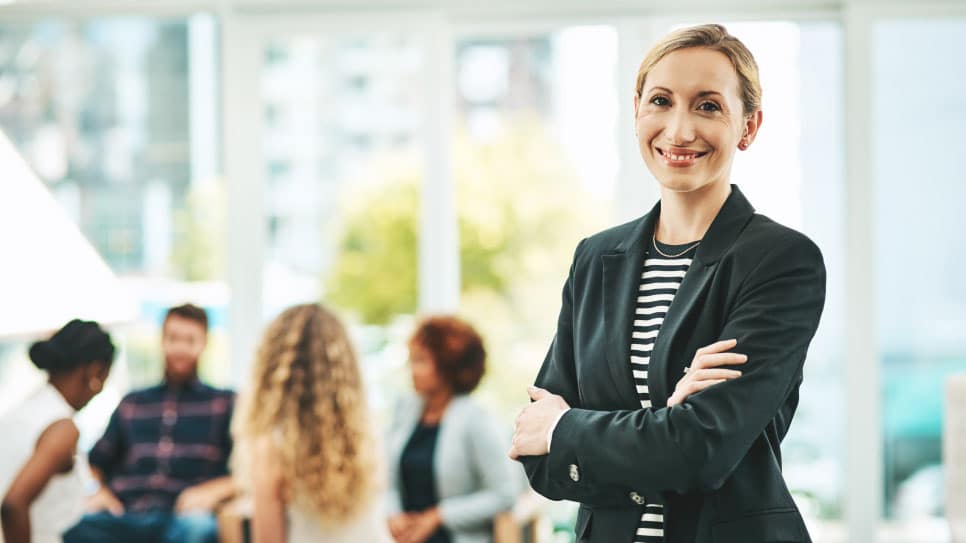 Preventing & Responding to Workplace Threats
5 courses
Train employees to recognize the warning signs.

Opening up a conversation about unwanted scenarios helps your employees be better prepared, gain confidence, and stay calm to manage unforeseen hazardous situations.
Help your employees make the right decisions, at the right moments