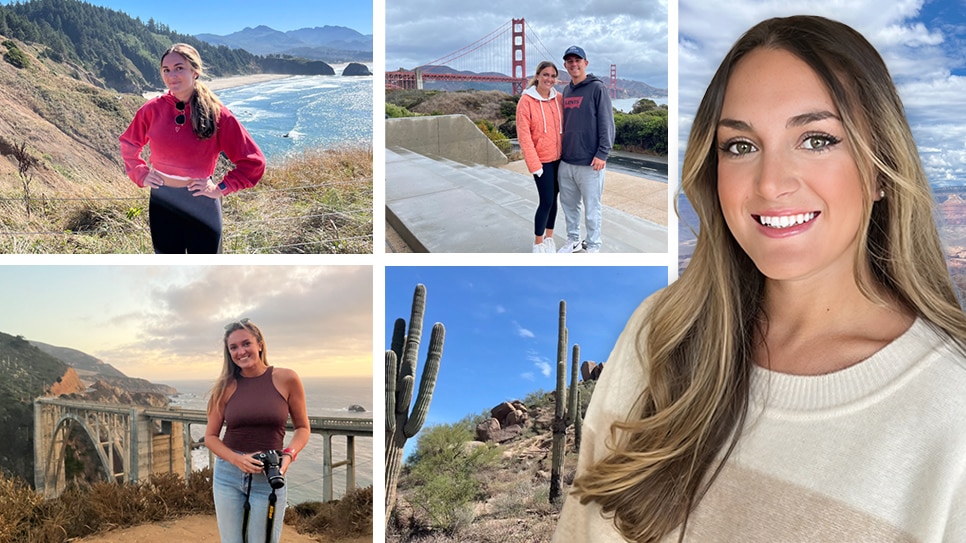 November 13, 2022
I recently returned from a cross-country adventure that allowed me to continue to work full-time, while experiencing new places, new challenges and a new appreciation for a work culture that promotes trust, transparency and flexibility. With 24 cities, 8,356 miles, 8 hotels, 7 Airbnbs and one car break-in behind me, I've learned a few things that might inspire others who are early in their careers or without family and home responsibilities.

Flip your perspective to get unstuck
After graduating from the University of Maryland in 2020, I was living at home on the Jersey Shore and enjoying my first corporate job, working remotely as a marketing manager. Yet, after two years, I was stuck in a rut: wake up, work, exercise, eat dinner and repeat. I needed some adventure to break up the monotony. But what and where?
The options were overwhelming. I could move closer to my boyfriend, Patrick, and friends or choose a city that always interested me. Paralyzed by choice, I flipped my perspective: why not embrace the endless choices and experience all of them?
Create a plan and set expectations
I laid out a plan to drive out west with Patrick, who also works remotely, and stay in Airbnbs for a month at a time along the way. We had a good plan, but would my manager think so? I felt comfortable bringing this up because Traliant is an all-remote company that believes people can be productive from anywhere, and encourages everyone to be open and honest. My manager and the VP of marketing were excited by the idea and said 'yes,' with a few ground rules. These included:
Setting clear expectations
Scheduling regular check-ins
Maintaining open communication
Adjusting to the team's time zones
Planning as far ahead as possible
Align schedules to keep productivity high
Within the first few days on the road, I was feeling the change. Life wasn't interrupting work, work wasn't interrupting life, and those non-working hours were really being lived. Each day we found something to do in our new city. During our first stop in Scottsdale, Arizona, we logged off at 1 pm, CT, on a Friday and went to the Grand Canyon. This fit in perfectly with another Traliant benefit: work ends on Fridays at 3 pm, local time, year-round. A couple weeks later we were in Los Angeles, living two blocks from the beach. From our base in Portland, Oregon, we took a weekend trip to Seattle to watch the Mariners play and check off Patrick's nineteenth major league baseball stadium.
All the while, there were adventures at work, too. I was helping to manage the launch of a new company website, organize in-person and virtual events and lead new marketing initiatives. All first-time projects for me. Feedback from my managers was what I'd hoped for — basically, they couldn't tell that I was traveling at all. I stayed focused and driven as I was in my normal circumstances, and working from 7 to 3, local time, made it easy to align our schedules and keep my productivity high.
Expect the unexpected
It wasn't all smooth travels. Throughout the trip there were hiccups, ranging from, 'We didn't charge the hotspot last night!' to 'Are brakes supposed to squeak like that?' to 'Someone broke into the car!' That was the low point. During our stay in Portland, almost everything was stolen from my car, including a suitcase filled with my clothes. But it didn't derail us. We knew there would be expenses we couldn't anticipate and had set aside a budget for emergencies like this.
We took the break-in as a sign to change our plans and ended up in Boise, Idaho, which wasn't on our original list of cities. We discovered we loved Boise and spent the next two weeks working from a downtown apartment and eating potatoes in all their glorious forms.
Adapt and roll with the punches
Our final city was Denver, where, from our apartment I could see the city skyline and Rocky Mountains. During the final leg of the trip, I thought a lot about the places, people and experiences that helped me grow as a person and manage the unexpected, the unpleasant and the unknown.
The experience allowed me to grow in my role on the marketing team, tackling projects I never thought I'd be a part of. My work-from-anywhere adventure was successful because from the beginning expectations were set. My managers could trust that I would not let this experience hinder my performance at work, and I could trust that they would be honest with me if I did fall behind.
Back on the East Coast again, I have a new perspective on breaking up the daily work-life routine, taking on new challenges with confidence, rolling with the punches when things go wrong and having honest communication with my managers. And if they agree, I'm already thinking about how we can do this again with a new set of cities!
Ali's On the Road Tips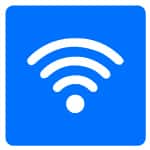 Wi-Fi: Ask your host what the Wi-Fi speed in the unit is. Even better, get a screenshot of a speed test they ran in the unit. This was step one for us and if we weren't confident in the speed, that listing was eliminated.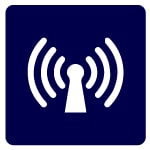 Hotspot: Buy a hotspot or two. Even with Wi-Fi speed guarantees, a few locations let us down and having a hotspot saved us more than once. This also gives you more flexibility. If you want to work from a different spot in your building or a new spot in town, you can bring your hotspot. I advise having two different hotspots with two different providers. When service was weak for one, the other was typically strong.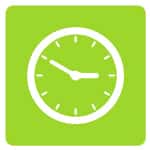 Time zones: Figure out which hours make the most sense for you to work. I was on Pacific Time for most of the trip. The people I worked most closely with were on Eastern or Central Time. I worked 7-3, PT, so that my travels didn't interfere with the team's schedule.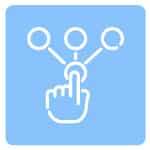 Alternate plans: Explore your new city or apartment building to find a backup plan if something goes wrong in your apartment. In California, we found a bookstore we could work in, which we needed when our air conditioning went out during a heat wave.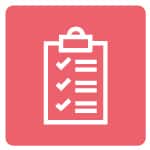 Non-negotiables: Determine your non-negotiables for your new home. For us, it was good Wi-Fi and at least a one-bedroom unit so that we could close the doors and both work.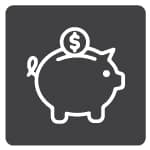 Extra savings: Things happen and you'll want the financial flexibility to adjust quickly. From getting the car repaired to checking out of our Airbnb early and relocating to a new one, having extra budget for these things gave us a greater sense of freedom and security.
Take everything out of the car: That way, when someone breaks in, they'll come up empty. 😉 
Ali Weinstein is a Marketing Operations Manager for Traliant, an innovator in online compliance training. She is now happily living and working in Baltimore and planning her next trip.