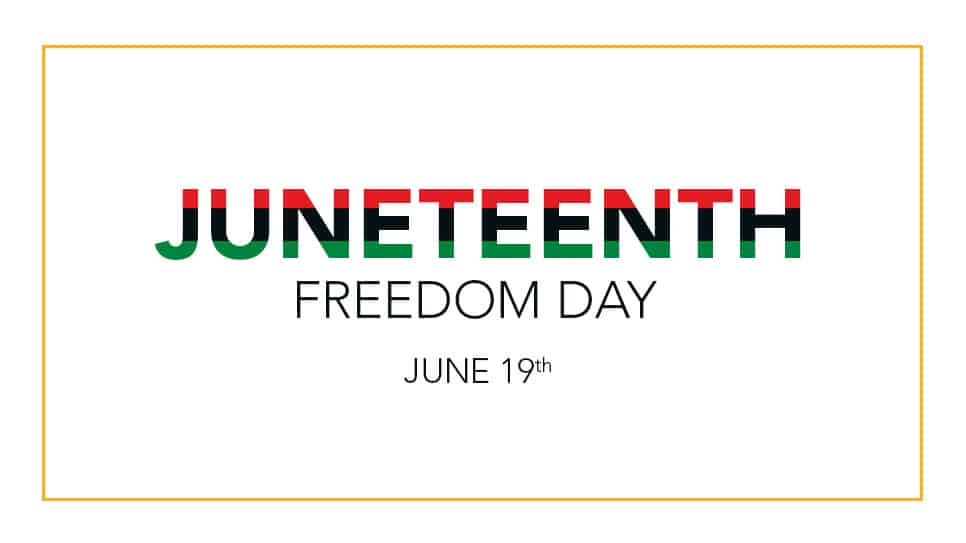 June 17, 2022
Whether you first heard about Juneteenth last year or have been celebrating with family and friends for decades, we can all learn something from this important anniversary in US history about creating more inclusive, respectful workplaces and communities.
What is Juneteenth?
Juneteenth (a combination of 'June and 'nineteenth') commemorates the end of slavery. On June 19, 1865, Major General Gordon Granger led his Union soldiers into Galveston, Texas, with the belated news that the Civil War had ended and that the enslaved people were now free. This was two and a half years after President Lincoln's Emancipation Proclamation in 1863.

Last year, President Biden signed into law the Juneteenth National Independence Day, making it a US federal holiday. This year, in observance, federal government offices, courts, banks, post offices, schools and financial markets will be closed on Monday, June 20. And thousands of organizations, companies, groups and communities are honoring and celebrating Juneteenth with in-person and digital activities.
For organizations and HR leaders, the Juneteenth anniversary is an opportunity to raise awareness about year-round initiatives to improve diversity, equity and inclusion (DEI) and start (or continue) conversations, share stories and experiences. It's also an occasion to review and update DEI policies, processes, practices and training.
Here are 5 ways to recognize and celebrate Juneteenth, inside and outside of the workplace:
Start a conversation with someone who doesn't know about Juneteenth. You may be surprised how many people know little or nothing about the anniversary.




Allow employees to take the day off. Better yet, encourage the organization to make Juneteenth a paid holiday.




Encourage everyone to set their out of office message to say that they are away in recognition of Juneteenth, and add a link that explains the meaning of the holiday.




Share an article or video about why Juneteenth is an important event to be celebrated.




Participate in Juneteenth events.

Search for local activities at

Eventbrite.com

and

Meetup.com

. The Smithsonian

National Museum of African American History and Culture also

has a variety of virtual and in-person

Juneteenth programs

.



Traliant Insight
Creating opportunities for employees to learn about Juneteenth and its significance should be part of year-round conversations about DEI and the journey to a more respectful, inclusive and equitable workplace for everyone.