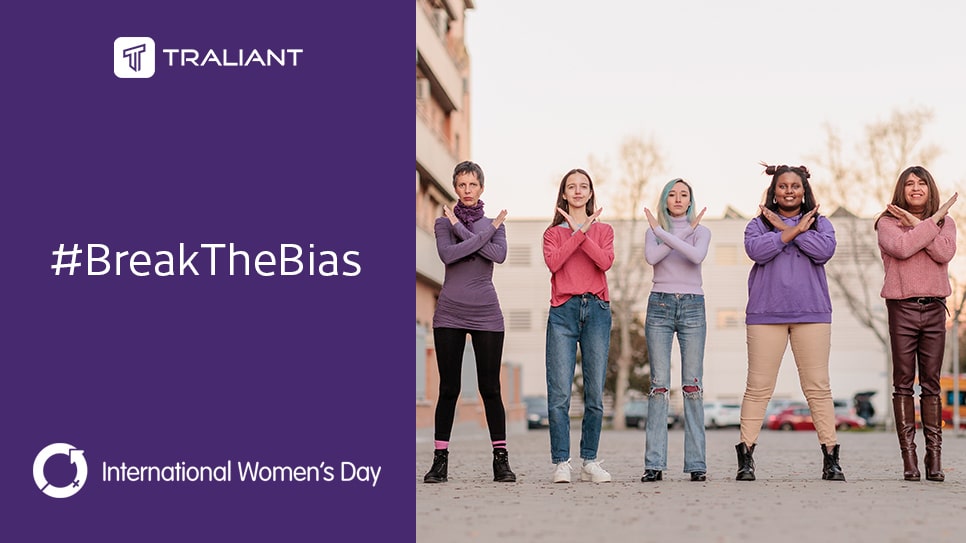 March 8, 2022
The theme of this year's International Women's Day is #BreakTheBias, with activities and events around the world to celebrate women's achievement, raise awareness against bias and take action for equality, according to the International Women's Day website.
Awareness is the first step in understanding, recognizing and addressing unconscious bias. A new Society for Human Resource Management (SHRM) report on Women in Leadership found that as women attempt to move up at work, they encounter several barriers, including less tangible support from their managers to foster leadership growth and reduced access to promotion opportunities. And female managers with caregiving responsibilities (35%) are more likely to have experienced a pandemic-related career setback than their male peers (26%).

Among the actions that organizations can take to support all employees, SHRM says, is to:
Develop and implement a comprehensive

diversity, equity and inclusion

(DEI) strategy and goals;

Train managers on how to eliminate unconscious bias and manage diverse teams to enhance equity in day-to-day interactions; and

Regularly audit practices and policies, from recruitment and hiring, to performance and development, to promotions and succession planning.

What is unconscious bias?
Although biases are part of the human condition – it's the way our brains process vast amounts of information – they can be managed to reduce their impact. Whether unconscious biases are positive or negative, the key is "unconscious." When people aren't aware of their biases, it can lead to unequal treatment and discriminatory practices. Unconscious bias training raises awareness of the different types of biases (it can occur in the virtual workplace, too), and practical strategies to manage and counteract biases so individuals can make better decisions that benefit the entire organization.
The connection between unconscious bias and microaggressions
To understand how unconscious bias occurs, it's important to understand microaggressions, which often stem from unconscious bias. Whether intentional or not, these everyday slights, snubs or insults that may appear to be harmless perpetuate stereotypes and contain hidden negative messages about someone's gender, race, sexual orientation or other characteristic. Interrupting female coworkers during meetings, calling women 'girls' or 'honey,' and saying, "you think just like a man" are some common examples of microaggressions. If left unchecked, unconscious bias and microaggressions undermine DEI efforts and employee engagement by making people feel judged, misunderstood, excluded and unsafe.
More deliberate decision-making can help overcome bias and blind spots
One of the strategies to reduce the influence of unconscious bias is to slow down and carefully think through decisions. People are more susceptible to unconscious biases when they are multi-tasking, under stress or rushed to make a decision. Another strategy is to seek out different opinions and perspectives, and encourage interaction between different departments and positions within the organization.
Implement a process to anonymously report incidents and offer feedback
In addition to implementing a formal complaint process and procedures for reporting incidents of harassment, discrimination, bias and other unacceptable behaviors, organizations can encourage a speak-up culture by offering different ways for employees to anonymously raise questions and concerns and offer feedback and suggestions.
Foster a sense of belonging for all employees
A sense of belonging — the perception of being accepted within a given group — is an important measure of an organization's DEI maturity level and a key indicator of inclusion that can improve engagement and collaboration.
Traliant Insight
#BreakTheBias is the 2022 theme for International Women's Day, observed annually on March 8th. Reducing unconscious bias and preventing discrimination is one of the important ways that organizations can create and maintain a more respectful, inclusive workplace culture where everyone can advance and thrive.