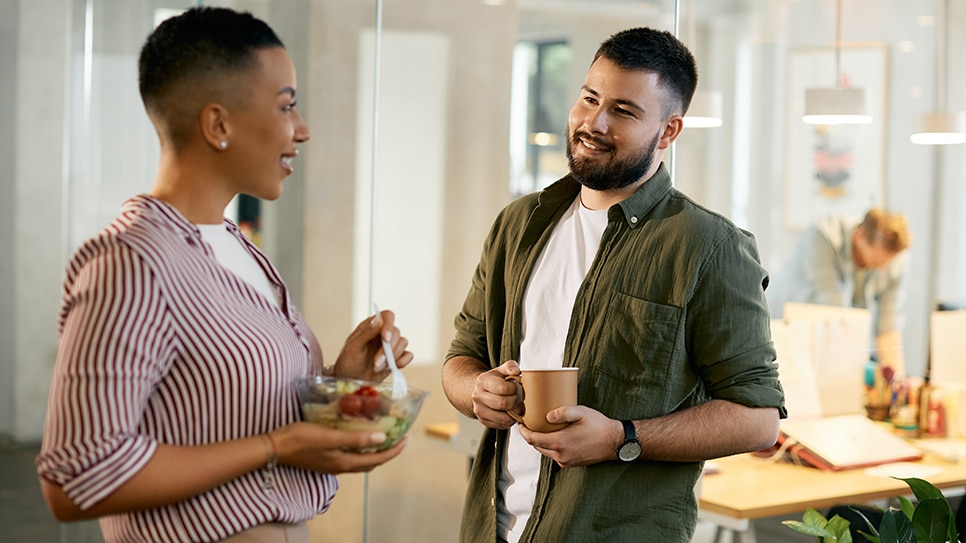 September 27, 2023
Research shows that rising loneliness and isolation is harmful to our mental and physical health and wellbeing and can have serious consequences for organizations.
A recent advisory issued by the US Surgeon General says loneliness and social disconnection is associated with a greater risk of heart disease, dementia, stroke, depression, anxiety and premature death. Creating a culture of connection is one of the pillars of the Surgeon General's framework for a National Strategy to Advance Social Connection.
Helping employees build stronger support systems enhances interactions and promotes positive mental health and wellbeing. Training employees and managers on social wellness is one of the tools to help individuals develop meaningful relationships and connections that fulfill a basic psychological need and prevent feelings of isolation, loneliness and disconnect.
What is Social Wellness?
Social wellness is about forming healthy relationships, having a positive influence on others, developing a strong support system, feeling connected to other people and having a sense of belonging.
For individuals, the benefits include better communication, increased emotional resilience, self-esteem and sense of security – all of which promote positive interpersonal relationships, higher engagement, retention and productivity.
Employee social wellness is one of the eight interconnected dimensions of employee health and wellbeing, including emotional, physical, financial, intellectual, occupational, and spiritual wellness. A change in one dimension can have an impact on the others – either positive or negative.
Social Wellness and Belonging
A sense of belonging is an important aspect of social wellness and a driver of engagement and wellbeing to feel part of a group, as well as professional identity and purpose.
Results of a 2023 survey of 2,515 US employees by the American Psychological Association underscored the value that individuals place on feeling part of a group through emotional connection and social ties with coworkers: 94% of respondents said it's somewhat or very important that their workplace be a place where they feel they belong.
Managers are a key factor in setting the tone and through their words and actions, so team members feel supported and psychologically safe to be themselves.
"Managers who understand the value of creating opportunities for connection, community and belonging will see more resilient, happy and engaged employees and improved collaboration and teamwork."
— Maggie Smith, Senior Vice President of Human Resources at Traliant
Insights & Actions
Whether employees are on-site, remote or hybrid, managers can foster a workplace culture where employees can have meaningful connections with others and feel a sense of belonging by:
Empowering employees with flexibility so they can bring their best selves to work and successfully integrate work-life responsibilities.
Making everyday interactions count. It can be a 15-minute conversation. What's important is showing genuine interest in what's going on in team members' lives, inside and outside of work.
Creating a virtual breakroom, hang out or other opportunities for social connections, where employees can share stories, photos, ideas and experiences.
Providing multiple communication avenues for people to ask questions, raise concerns and offer suggestions. And be sure to close the feedback loop so people know that they are being heard.
Changing it up with new activities and events where employees can bond outside of work.
Actively promoting the organization's values and connecting the dots so that individuals have a sense of professional purpose and understand how they fit into the bigger picture.
Traliant Training
Approaching employee health and wellness through a multidimensional lens leads to more effective programs that address the many factors influencing employee wellbeing. Sign up for a free trial of Social Wellness and other courses in Traliant's Health and Wellness Suite.