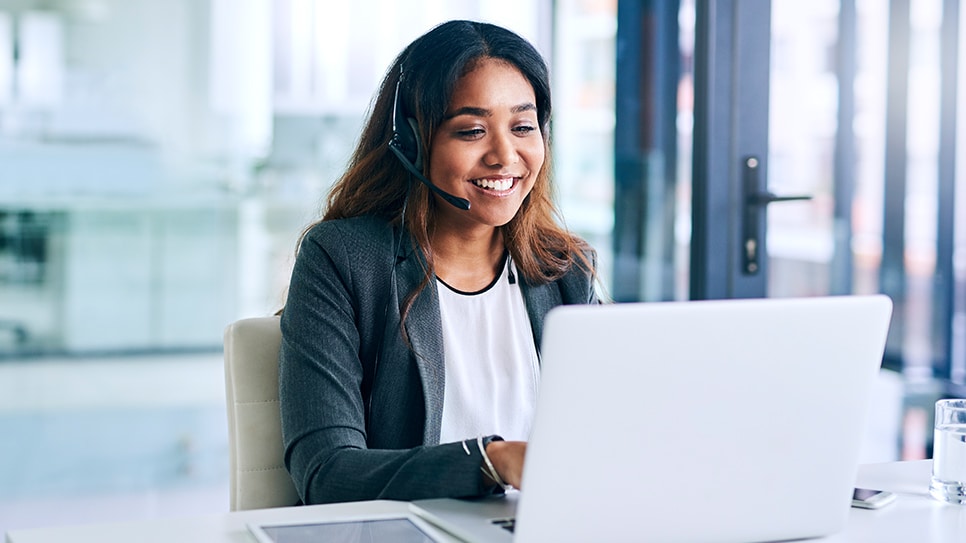 July 14, 2022
Client Services plays an integral role in the successful launch of your compliance training program and should be an important consideration when selecting a training partner. Not all training providers offer the same level of Client Services support. They can vary greatly when it comes to staff availability, responsiveness to issues and requests and course implementation and customization.
In a Q&A with Bill Rudowitz, Traliant Senior Vice President of Client Services, he addresses the assistance and support customers should expect from their compliance training provider.
What is Client Services and why is it important to compliance training?
Client Services assists customers throughout the compliance training relationship – from technical support to Learning Management Systems (LMS) integration to course customization and deployment. It ensures an organization's training needs are promptly met to keep course delivery on track and provide a seamless training experience for employees.
What value should customers place on Client Services?
Training providers typically don't charge for Client Services. However, when talking about support, be sure you understand what is included. Are you assigned a contact who listens to your needs, manages your solution and keeps you informed of progress? What hours and days of the week does Client Services field calls and emails. How long does it typically take for support staff to respond to your calls, web chats and emails, and resolve your issues?
As an example, Traliant Client Services provides customers with a dedicated Client Services Representative (CSR), responds to customers' requests within 10 minutes and resolves issues in two hours on average, which is the best support in the industry.
How has the role of Client Services changed over the years?
Having worked in this arena for nearly four decades, I've seen Client Services evolve into much more than a support function. It has become a full-service relationship, at least at Traliant. We work to treat every customer, whether they are a large global firm or a small local shop, with the same level of service.
What role does Client Services play in training implementation?
Client Services assists companies with each step of training course delivery and answers any questions or technical issues along the way to ensure a smooth, on-schedule rollout. That includes setting up a company on the training partner's LMS or a third-party LMS, the integration of its Human Resource Information Systems (HRIS) and user lists, and the management of course launch notifications, licenses and renewals.
Client Services also supports a customer with technical specifications, course configurations and templates that allow employees to receive notifications, confirmations and reminders on when and how to access course training. Additionally, it helps a company capture real-time data tracking course progress, completion and other information that can be accessed through a customer dashboard.
If issues arise any time during the integration process, it's my philosophy that a Client Services team owns them regardless of whether they are caused by a company's third-party LMS, Virtual Private Network (VPN) or something else. Client Services should resolve system integration issues even if it means getting on the phone with a vendor to find a fix. Partnering with a Client Services team that is dedicated to this kind of comprehensive approach can save a company a great deal of time, energy and headaches in meeting their compliance training objectives and deadlines.
Does Client Services assist with course customization?
It depends on the compliance training company you talk to. Many do not customize training or if they do, the process is expensive, long and complicated. They would prefer you to use their off-the-shelf courses.
Traliant tailors training courses for customers quickly and affordably to reflect an organization's brand and specific needs. Customers can include their company logo, policy, update background images and add a short CEO video message in a customized course delivered as quickly as 30-45 days. We can even make changes to course narration and on-screen text for customers. Client Services can quickly turnaround these customizations because our courses are built to easily accommodate adjustments to text, images, inserts and more.
Additionally, organizations often need to provide compliance training in multiple languages to accommodate their diverse workforce. It's essential for Client Services to have ready access to language experts who can promptly and accurately translate course material to optimize learning and retention.
 Traliant Insight
Client Services is an essential part of any compliance training partnership. The level of Client Services expertise and assistance you receive has a direct bearing on the success of your compliance training program by impacting its implementation, management and employee training experience.
Bill Rudowitz is Senior Vice President of Client Services at Traliant and has more than 37 years of experience managing post-sales interactions with customers spanning implementation, support, renewals, customization and deployments.