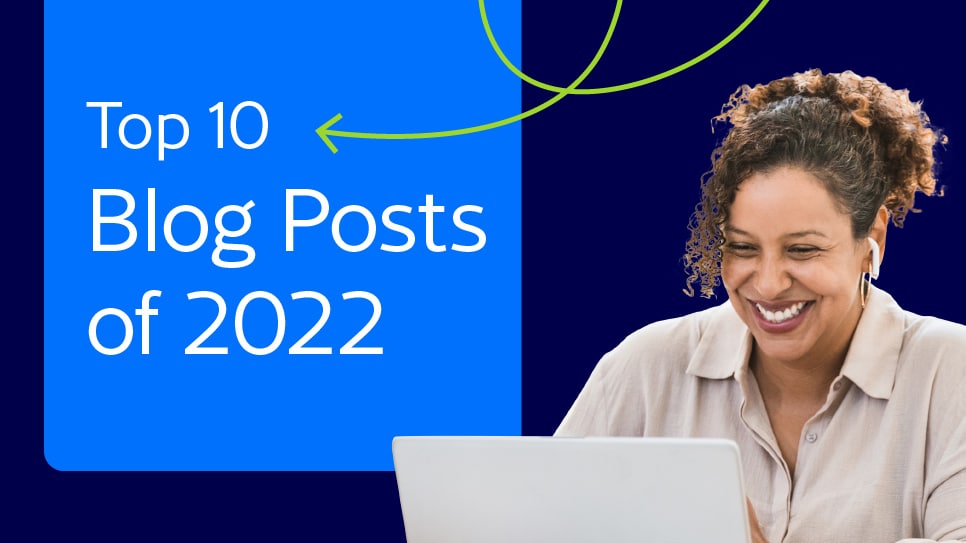 December 15, 2022
A competitive labor market, worker demands for flexibility and calls for greater consumer privacy, workforce civility and inclusion are among the many issues that employers addressed in 2022. Traliant covered all these topics and more in timely stories to help organizations navigate these challenges.
Here are our top 10 most-visited blog posts in 2022, which can be a source of information and inspiration in the new year.
10. 7 Ways to Ensure Fair and Legal Recruiting, Interviewing and Hiring Practices
The Great Resignation saw more than 4.5 million Americans quit their jobs, leaving employers scrambling to fill job posts. As the effects of the labor shortage still linger, it's important for employers to avoid discriminatory hiring practices. This blog post explains how to keep unconscious bias out of the recruiting, interviewing and hiring process.
9. 5 Ways Employees Can Apply Diversity, Equity and Inclusion at Work
The diversity and inclusion trend continues to drive leaders, managers and employees to attract, engage and retain underrepresented talent inside their ranks. This blog post explains how organizations can create transparency, accountability and buy-in to foster a more diverse, equitable and inclusive culture.
8. 6 Topics Data Privacy Training Should Cover
Organizations can't afford to treat data privacy as an afterthought. Consumers are pushing to have more control over their data and regulators are listening. To avoid the loss of consumer trust and stiff penalties for non-compliance, this post explains how organizations can meet privacy laws governing how they collect, use and share personal information.  
7. Choose Compliance Training That Drives Real Behavioral Change
Not all compliance training is the same. A behavior-based approach incorporates real-world scenarios and interactive challenges that enable learners to practice and apply behaviors at work. This blog post explains how taking advantage of advances and proven best practices in modern training design makes training more effective, helping organizations optimize their compliance training investment.
6. Don't Go Phishing for Holidays Deals
Businesses are targets of cyberattacks year-round but are especially vulnerable during the holidays when employees become distracted by online shopping, celebrations and vacation. This post explains how organizations can avoid unwittingly gifting their data and privacy information to criminals sending fraudent emails, attachments and websites.

5. 5 Ways Cyber Security Awareness Training Strengthens Your Data Privacy and Information Security Compliance Program
According to Statistica, 15 million data records were exposed worldwide through data breaches during the third quarter of 2022 — up 37% over the previous quarter. With the average cost of a data breach reaching $4.35 million, this post explains how ongoing employee training to safely handling data is essential to avoiding cyber-attacks and breaches.
4. Chicago Raises the Bar on Illinois' Sexual Harassment Prevention Training
Starting July 1, 2022, Chicago mandated new sexual harassment training requirements for employers beyond those imposed by Illinois. The new city ordinance expands training for employees and managers to prevent sexual harassment, retaliation and promote safe intervention by bystanders who witness misconduct. This post explains what employers need to do to comply with the first round of annual Chicago training, which is due by June 30, 2023.
3. Practice Microaffirmations to Help Build a More Inclusive Workplace
Microaffirmations are small acts that help cultivate a culture of inclusion. This blog post explains how thoughtful actions can communicate to others they are welcome, valued and included. By training employees and managers how to practice microaffirmations in daily interactions, organizations can reduce unconscious bias and microaggressions in the workplace.
2. 10 Do's and Don'ts When Responding to Workplace Complaints
An organization's work environment can be affected by how quickly and efficiently it resolves employee complaints. Ignoring complaints of unethical behavior and misconduct can demotivate a team. This post explains how managers should properly handle employee complaints and what actions to avoid to strengthen the employer-employee relationship.
1. 6 Employment Laws All Managers Should Understand
Managers are expected to be familiar with many issues, including employee benefits and compensation, health and safety, leave entitlements, discrimination and harassment and employee rights. The top Traliant post of 2022 explains the essential employment laws that every manager needs to know to keep an organization legal and compliant.
What compliance and HR topics are top of mind for you in 2023? Please connect with us on LinkedIn or email us at marketing@traliant.com. We're listening!
The Traliant team wishes you a happy, healthy holiday season and New Year!