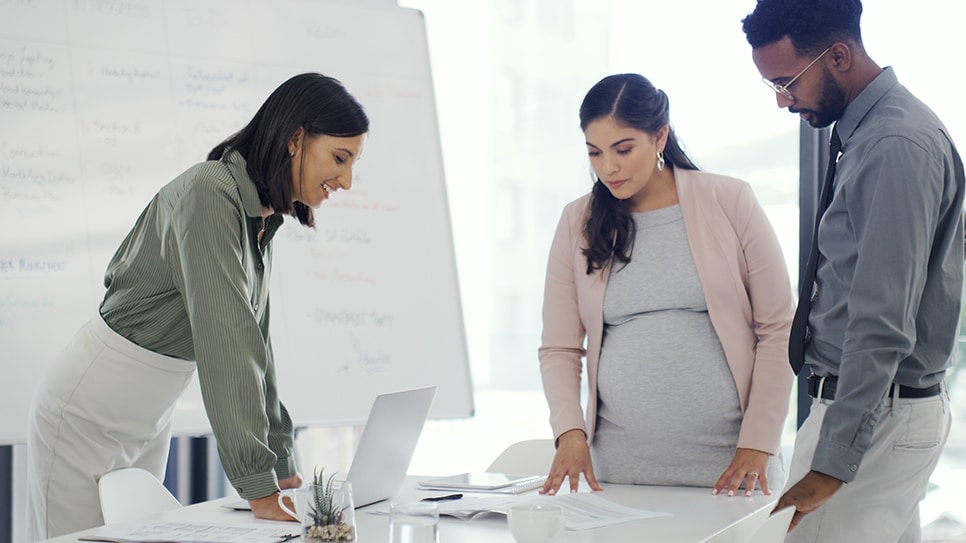 June 28, 2023
Effective June 27: the Pregnant Workers Fairness Act (PWFA) expands the right to workplace accommodations for pregnant employees.
Employees who are pregnant or have related medical conditions now have new protections under a federal law, the Pregnant Workers Fairness Act (PWFA), starting June 27, 2023. Under the PWFA, employers with at least 15 employees are required to provide reasonable accommodations — such as more frequent breaks and no heavy lifting — to employees who have known limitations due to pregnancy, childbirth or related medical conditions, unless the employer can show that the accommodation causes undue hardship for the business.
The terms 'reasonable accommodations' and 'undue hardship' should be familiar to HR practitioners and managers who handle accommodation requests under the Americans with Disabilities Act (ADA) or state laws. Reasonable accommodation refers to making adjustments, changes or modifications to a job or work environment. Undue hardship is an action that would create a significant expense or difficulty for the employer.

Employers who must comply with the PWFA should update relevant policies, processes and procedures, and train HR professionals and managers on their responsibilities to properly handle reasonable accommodations, avoid discrimination and bias and ensure an inclusive work environment.
Examples of reasonable accommodations under the PWFA
As a best practice, managers who receive requests for an accommodation from a pregnant employee should reach out to the organization's designated compliance person, who will be familiar with any legal requirements and can help determine whether a request is reasonable.
Reasonable accommodations might include:
Allowing longer, additional or more flexible breaks;
Providing closer parking;
Changing a work schedule so the employee can work shorter hours, or part-time or start later;
Excusing an employee from strenuous activities;
Offering work-from-home options;
Modifying food or drink policies to allow a worker to have a water bottle or food; and
Permitting time for doctor's appointments or to recover from childbirth.
Prohibitions under the PWFA
Under the new law, employers cannot:
Require an employee to accept an accommodation without a discussion about the accommodation between the worker and the employer;
Deny a job or other employment opportunities to a qualified employee or applicant based on the person's need for a reasonable accommodation;
Require an employee to take leave if another reasonable accommodation can be provided that would let the employee keep working;
Retaliate against an individual for reporting or opposing unlawful discrimination under the PWFA or participating in a PWFA proceeding (such as an investigation); or
Interfere with any individual's rights under the PWFA
On its website, the Equal Employment Opportunity Commission (EEOC) answers questions about the PWFA and other federal laws that may apply to pregnant workers. The agency will also make its draft PWFA regulations available for public comment before they are finalized.
Insights & Actions
Effective June 27, the Pregnancy Workers Fairness Act guarantees a right to reasonable accommodations to qualified employees with limitations due to pregnancy, childbirth and related medical conditions. HR leaders should move quickly to review and update policies, processes and handbooks that cover job-related accommodations, and schedule training for HR staff and frontline managers and supervisors on how to recognize and respond to reasonable accommodation requests, avoid retaliation and ensure a compliant and inclusive workplace.
Traliant Training
Are your managers prepared to handle different types of requests for accommodations due to medical conditions or disabilities? Sign up for a free trial of Handling Reasonable Accommodations in the Workplace.