6 Compliance Challenges Facing the Modern Workplace
Great companies have one thing in common: they put people first!.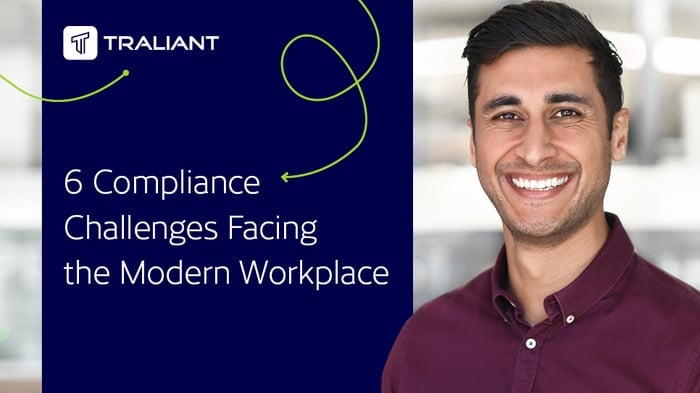 Competitive pressures, changing customer and employee expectations, evolving regulatory requirements and workplace trends are some of the many challenges organizations must navigate. Understanding the risks and rewards these issues present and how to comply is key when deciding which ones should be prioritized.
As leading experts in workplace compliance training, we've examined the evolving social, regulatory and business landscape and identified the top challenges for organizations large and small. In our free guide, "6 Compliance Challenges Facing the Modern Workplace," we discuss what organizations should prepare for – and more importantly, what specific actions they can take to successfully prepare for these hurdles.
In this guide we'll discuss:
Tackling the Staffing Shortage
Promoting an Ethical Workplace Culture
Turning DEI Words into Action
Maintaining Workplace Respect & Civility
Holding on Securely to Data & Consumer Trust
Managing a Remote/Hybrid Workforce
About Traliant
With a mission to transform compliance training from boring to brilliant, Traliant's award-winning training helps organizations create and maintain respectful, inclusive workplaces. Our modern approach to eLearning is designed to motivate positive behavior through realistic video scenarios and up-to-date content that is interactive, easy to customize and connects with today's mobile workforce. Traliant currently serves over 8,000 organizations across industries and is ranked No. 88 on Deloitte's 2021 Technology Fast 500 list of the fastest-growing companies in North America. Traliant is backed by PSG, a leading growth equity firm partnering with lower middle-market software and technology-enabled service companies.
Get an Instant Course Preview Today at www.traliant.com