Addressing Employee Burnout and Psychological Safety: A Multi-Dimensional Approach to Mental Health & Wellness 
Join this on-demand webinar led by leaders of Traliant and the National EAP, who share best practices for creating a wellness culture.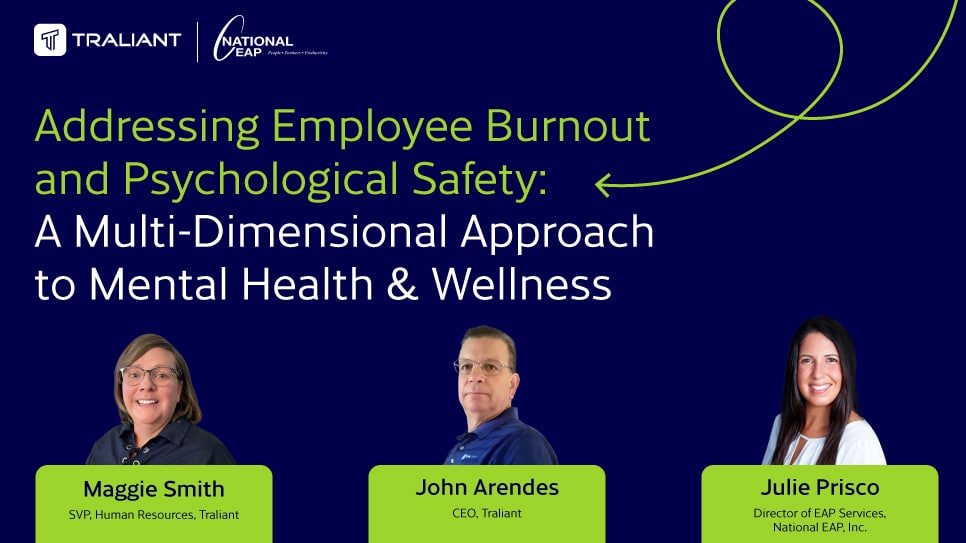 Studies show that employees are increasingly prioritizing mental health and well-being to shape the future of work. According to a recent Pew Research Center study, 1 in 4 in four workers quit a job over mental well-being in the last two years.
In response, companies are being forced to reevaluate their policies and programs to prevent employee burnout, quiet quitting and resignations – factors that negatively impact performance. The solution requires organizations to look beyond flexible work options to foster a positive culture that rewards employees for being authentic and empathetic towards each other.
Join this on-demand webinar led by Maggie Smith, Senior Vice President at Traliant, John Arendes, CEO at Traliant, and Julie Prisco, Director of Services at the National EAP, who share best practices for how companies can effectively address health and wellness. Hear how it can have a powerful and lasting impact on recruitment, retention, productivity and more. Get practical advice for how your organization can forge and strengthen work connections, trust and morale by implementing a wellness mindset.
Webinar attendees will learn:
The benefits of implementing a Health & Wellness program at your organization
The 8 dimensions of wellness
Destigmatizing mental health
Reducing burnout
Creating psychological safety and a sense of belonging
The importance of transparency and support from company champions and leaders
Practical steps to develop and implement your Health & Wellness program
Don't miss this webinar to learn the practical ways you can create a wellness culture that forges stronger work connections to build a healthier, more engaged and positive work environment.
About Traliant
With a mission to transform compliance training from boring to brilliant, Traliant's award-winning training helps organizations create and maintain inclusive, respectful and ethical workplaces. Our modern approach to eLearning is designed to motivate positive behavior through realistic video scenarios and up-to-date content that is interactive, easy to customize and connects with today's mobile workforce.
Traliant currently serves over 8,000 organizations across industries. Backed by PSG, a leading growth equity firm, Traliant is ranked on Inc.'s 2021 and 2022 list of the 5000 fastest-growing private companies in America, and on Deloitte's 2021 Technology Fast 500.
About the National ERP
The National EAP was founded over 40 years ago with the mission to provide programs and services designed to help employees rise above personal and professional challenges, fulfill their potential, adopt healthier lifestyles and foster personal growth. Its members have immediate access to customized programs implemented by clinical behavioral specialists and corporate coaches, all highly trained in assessing management and employee issues requiring remediation as well as leadership development programs to take an organization to the next level.
Speakers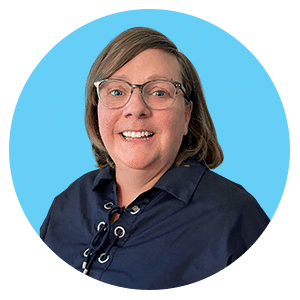 Maggie Smith
Senior Vice President, Human Resources
Traliant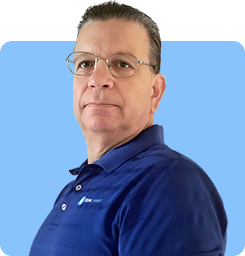 John Arendes
Chief Executive Officer
Traliant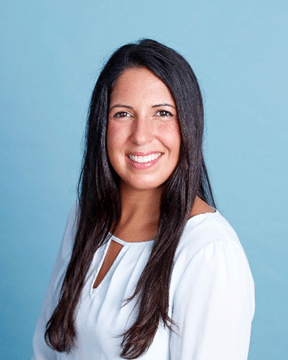 Julie Prisco
Director of EAP Services
National EAP