Compliance Insights from Traliant
Tom Fox, renowned compliance thought leader, offers valuable insights on navigating today's compliance crossroad of expectations, culture and training.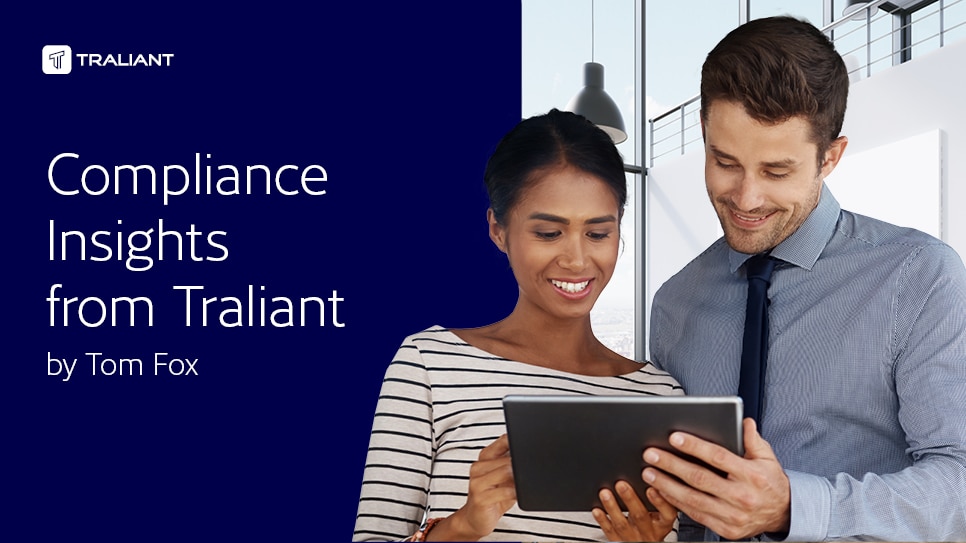 The necessity of corporate compliance has never been greater as government expectations, regulations and penalties continue to rise, and the reputational damage for violators can be as severe or worse than enforcement measures. At the same time, modern advances in training design provide organizations with more effective ways of affecting employee behavior and workplace culture.
To discuss the evolution of these converging paths and what they mean for companies, Tom Fox spoke with leadership from Traliant, the industry's online compliance training leader. What he learned is today's compliance crossroad is putting increased pressure on the HR, legal and compliance community to modernize its approach to compliance programs and training. His insights provide a clear path for companies to meet the rising expectations of employees, customers, shareholders and law enforcement.
In this whitepaper Tom discusses:
Transforming Training from Boring to Brilliant
Department of Justice Training Expectations
Diversity, Equity & Inclusion (DEI) and Compliance
The Evolution of the Code of Conduct
Anti-Corruption Training
About Traliant
With a mission to transform compliance training from boring to brilliant, Traliant's award-winning training helps organizations create and maintain inclusive, respectful and ethical workplaces. Our modern approach to eLearning is designed to motivate positive behavior through realistic video scenarios and up-to-date content that is interactive, easy to customize and connects with today's mobile workforce.
Traliant currently serves over 8,000 organizations across industries. Backed by PSG, a leading growth equity firm, Traliant is ranked on Inc.'s 2021 and 2022 list of the 5000 fastest-growing private companies in America, and on Deloitte's 2021 Technology Fast 500.
Get an Instant Course Preview Today at www.traliant.com