Creating a Healthy State of Mind at Work
Great companies have one thing in common: they put people first!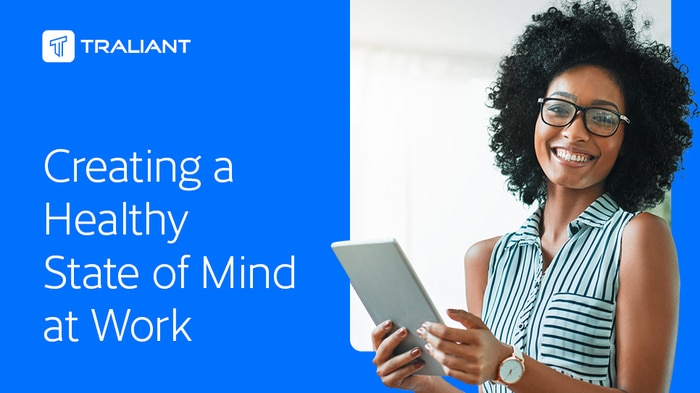 Top organizations help employees thrive by creating an emotionally supportive culture at work where inclusion is mandatory, a "can do" attitude is pervasive and individuals are confident in being their genuine selves. By fostering a healthy state of mind for team members, these companies increase collaboration, production, and more to outperform rivals.
What's the secret to creating a healthy workplace mindset?
Read our free guide, Creating A Healthy State of Mind At Work, as we discuss the steps to enabling employees to perform at their best and 10 actions you can take today to foster an emotionally healthy work culture for team members.
In this guide we'll discuss:
Psychological Safety
Positive Work Environment
Sense of Belonging
Respectful Workplace
10 Actions You Can Take Today
About Traliant
With a mission to transform compliance training from boring to brilliant, Traliant's award-winning training helps organizations create and maintain respectful, inclusive workplaces. Our modern approach to eLearning is designed to motivate positive behavior through realistic video scenarios and up-to-date content that is interactive, easy to customize and connects with today's mobile workforce.
Traliant currently serves over 8,000 organizations across industries and is ranked No. 13 on Deloitte's 2020 Technology Fast 500 list of the fastest-growing companies in North America. Traliant is backed by PSG, a leading growth equity firm partnering with lower middle-market software and technology-enabled service companies.
Get an Instant Course Preview Today at www.traliant.com