Creating a Privacy Program: Steps Legal, Compliance & HR Pros Can Take to Effectively Manage Consumer and Employee Information
Join this on-demand webinar led by Maria D'Avanzo, Chief Evangelist Officer at Traliant, to learn how to implement a comprehensive data privacy program to differentiate your business, build trust and stay compliant in today's privacy-conscious environment.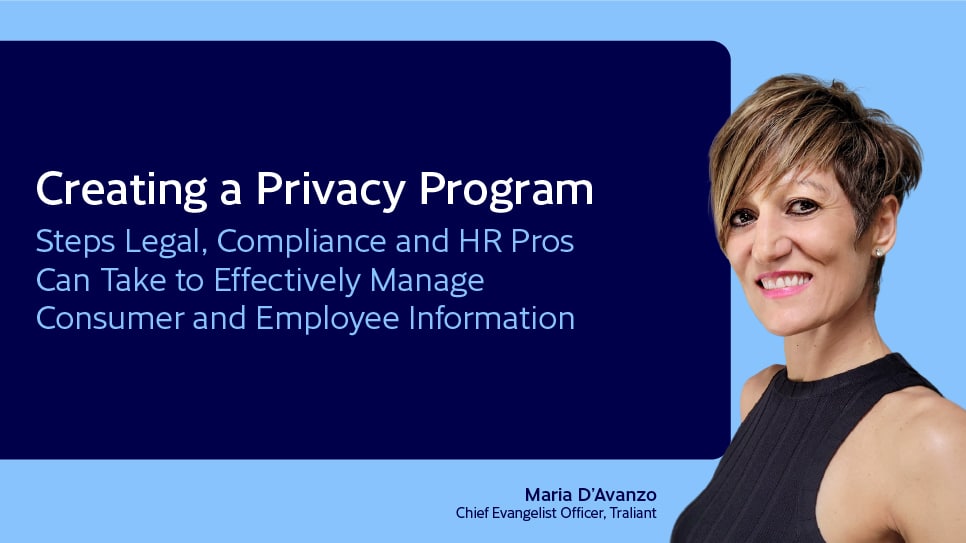 More than 80% of consumers say that the way an organization treats personal data is "indicative of how it views and respects its customers." That belief has resulted in three quarters of consumers abandoning brands and products whom they do not trust with their data. In response to this growing distrust, numerous states and countries have passed data privacy laws to regulate how companies collect, use, share and protect sensitive consumer and employee information.
To avoid reputational damage, regulatory fines and personal lawsuits, it's essential for companies to implement privacy policies, procedures and training across all organizations, operations and locations.
Join Maria D'Avanzo, Chief Evangelist Officer at Traliant, lawyer and former Chief Ethics and Compliance Officer, for a 45-minute on-demand webinar explaining the steps companies can take to build an effective privacy program that safeguards customers' trust and loyalty, complies with disparate privacy laws, and ensures the ethical and responsible collection, use and security of personal consumer and employee information. By sharing the steps to creating a culture of privacy, Maria provides insights for strengthening internal procedures and policies for the types of personal data companies collect, the purposes for which it is used and the legal and regulatory frameworks that apply.
The webinar covers:
Data collection and risks to data privacy
Consumer and employee concerns about data collected and shared on them
Safeguarding privacy and ensuring its ethical and responsible use
Steps to creating an effective privacy program
Setting policies and procedures for collecting, storing and using personal data
Protecting customer trust: Creating transparency about data collection and use
Complying with state and GDPR privacy laws
Training employees on policies to ensure adherence
Preventing, detecting and reporting data incidents
About the Speaker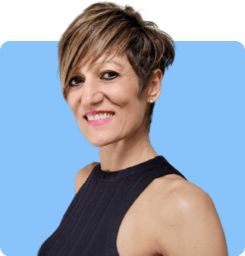 Maria D'Avanzo, Chief Evangelist Officer at Traliant
About Traliant
With a mission to transform compliance training from boring to brilliant, Traliant's award-winning training helps organizations create and maintain inclusive, respectful and ethical workplaces. Our modern approach to eLearning is designed to motivate positive behavior through realistic video scenarios and up-to-date content that is interactive, easy to customize and connects with today's mobile workforce.
Traliant currently serves over 8,000 organizations across industries. Backed by PSG, a leading growth equity firm, Traliant is ranked on Inc.'s 2021 and 2022 list of the 5000 fastest-growing private companies in America, and on Deloitte's 2021 Technology Fast 500.