Managing the Unpredictable: A Practical Approach to Workplace Emergency Preparedness 
Learn how to more efficiently approach emergency preparedness to make it more manageable.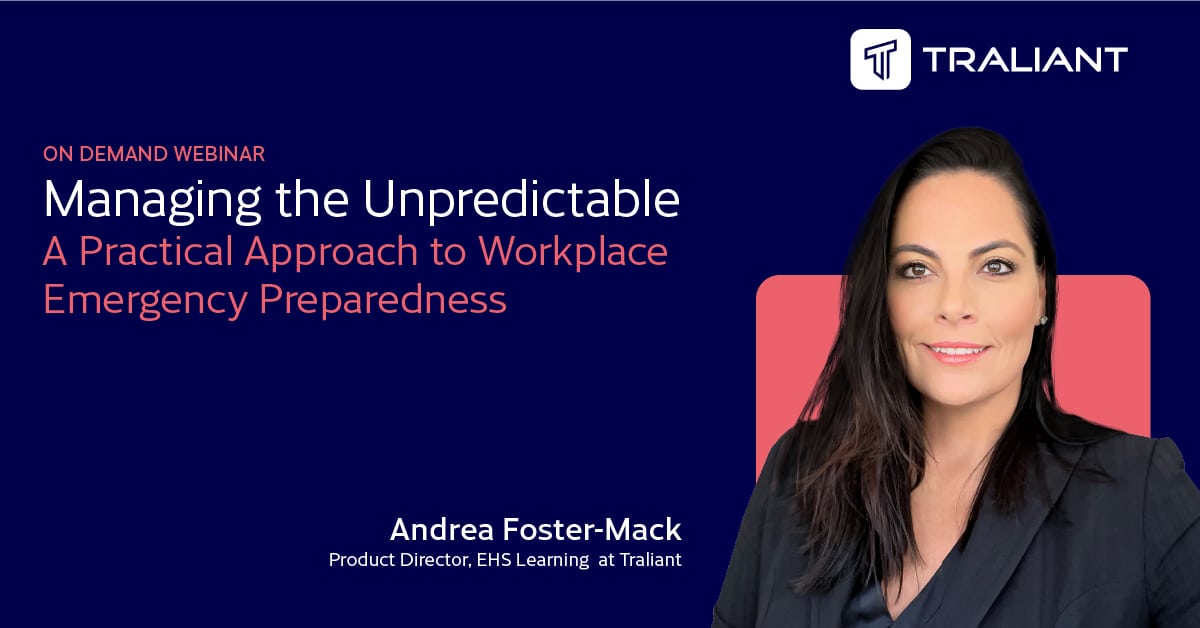 The types of emergencies that a workplace can plan for are limitless, creating stress and challenges for EHS and HR professionals struggling to prepare for the unknown.
Andrea Foster-Mack, EHS Product Director at Traliant and Certified Safety and Health Official, addresses how to more efficiently approach emergency preparedness and tailor plans to mitigate the greatest risks to your company, its workforce and the community and customers it serves.
During this 45-minute webinar, you'll learn:
What to consider when assessing emergency risks to your organization
Types of emergencies you have and haven't anticipated
How to create emergency preparedness plans to mitigate your greatest threats
Why planning, training, and practice are essential to effectively responding to emergencies
What you can learn from past emergencies
Ensuring your emergency preparedness plan can deliver under adversity
About the Speaker
Andrea Foster-Mack, Product Director, EHS eLearning
About Traliant
With a mission to transform compliance training from boring to brilliant, Traliant's award-winning training helps organizations create and maintain inclusive, respectful and ethical workplaces. Our modern approach to eLearning is designed to motivate positive behavior through realistic video scenarios and up-to-date content that is interactive, easy to customize and connects with today's mobile workforce.
Traliant currently serves over 8,000 organizations across industries. Backed by PSG, a leading growth equity firm, Traliant is ranked on Inc.'s 2021 and 2022 list of the 5000 fastest-growing private companies in America and named to Inc.'s 2023 list of Best Workplaces.