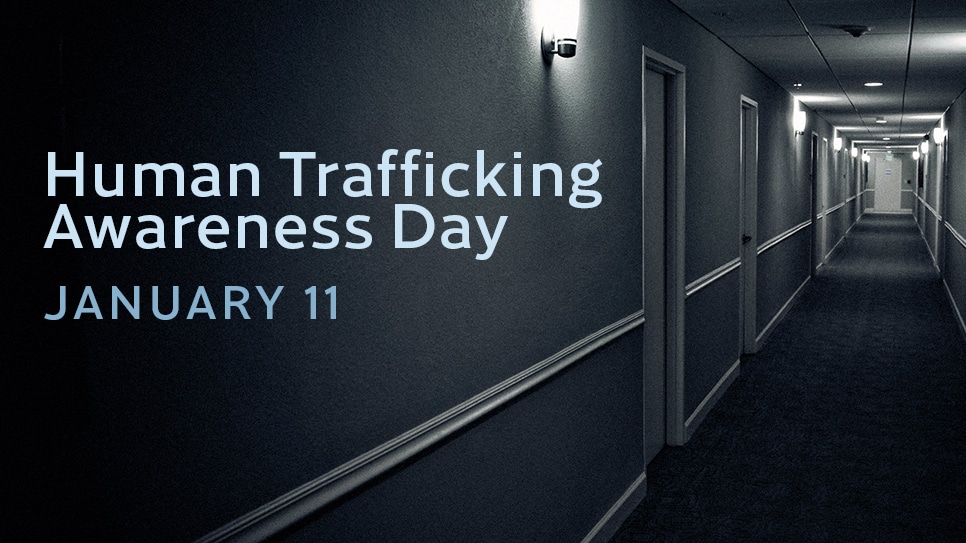 January 11, 2021
January 11 is National Human Trafficking Awareness Day, observed each year to call attention to this global crime that affects millions of men, women and children every year. The US Department of Homeland Security, which investigates human trafficking, encourages organizations to show their support by wearing blue clothing and sharing pictures on social media using the hashtag #WearBlueDay. It's also an opportunity to raise awareness by implementing human trafficking awareness training.
What is human trafficking?
Human trafficking involves the use of force, fraud, or coercion to exploit human beings for sex trafficking, forced labor and domestic servitude. While human trafficking is not unique to the hospitality industry, traffickers often take advantage of the privacy and anonymity of hotels and motels to conduct their crimes. Polaris, a non-profit which operates the largest human trafficking hotline in the nation, reports that 75% of US based human trafficking survivors have some contact with a hotel or motel during their trafficking experience.
Human trafficking victims can be of any age, gender, race, religion, socioeconomic status or education level. Traffickers often prey on people with psychological or emotional vulnerabilities, or individuals suffering from economic hardship or lacking a social safety net. Victims often don't seek help due to language barriers, fear of their traffickers, and/or fear of law enforcement.
The impact of COVID-19 on vulnerable populations and the lodging industry services plays into the hands of traffickers, who use masks, social distancing and contactless online check-in/out services to remain hidden. Despite the challenges to identify human trafficking situations, lodging facilities can be held accountable for injuries suffered by victims on their premises under the Trafficking Victims Protection Act. It further underscores the need to train staff regularly on human trafficking awareness.
According to an ECPAT-USA, a policy organization focused on stopping child sex trafficking, six states require human trafficking training for hospitality employees, including California, Connecticut, Florida, Illinois, Minnesota and New Jersey. Additionally, 15 other states recommend voluntary training, including Arizona, Colorado, Iowa, Kansas, Louisiana, Michigan, Missouri, North Carolina, Oregon, Pennsylvania, Rhode Island, Texas, Vermont, Virginia and Washington.
Human trafficking red flags
Front desk, security, valet and housekeeping staff may encounter human traffickers and their victims when performing their jobs and need to know what to look for to identify and report suspicious activities.
Here are 12 common behaviors that can indicate human trafficking:
Checking in for only a few hours instead of an overnight stay

Paying with cash or a preloaded credit card

Refusing cleaning services for multiple days

Leaving minors alone in a room for a long time

Always keeping a "Do Not Disturb" sign on their door

Asking staff or guests for food or money

Entertaining a minor who they didn't originally arrive with at the bar or restaurant

Showing signs of physical abuse

Preventing individuals to come and go at will

Appearing fearful or anxious

Having few or no personal possessions

Avoiding eye contact and interactions with others
How to act on suspicions
Rather than confronting a suspected trafficker or victim, it is safer for hospitality staff to report their suspicions to hotel management and security, local law enforcement or the National Human Trafficking Resource Center Hotline at 1-888-373-7888 and text line 233733. By reporting tips, staff members can help law enforcement rescue victims and possibly save lives.
Traliant Insight
Hotels and motels can combat human trafficking by implementing anti-trafficking policies and procedures, and providing ongoing human trafficking awareness training to help keep guests and staff safe. Teaching hospitality employees how to recognize signs of human trafficking is a positive step in helping law enforcement combat this global crime and save lives.