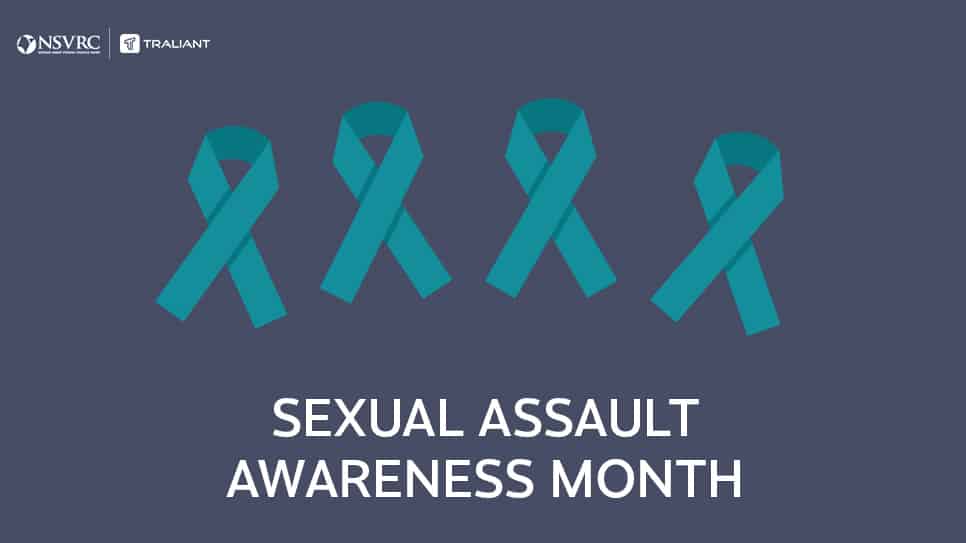 April 5, 2022
This year's National Sexual Assault Awareness Month (SAAM), promoted every April by the National Sexual Violence Resource Center (NSVRC), focuses on raising awareness of building inclusive, safe and respectful spaces online and offline. Supporters are invited to participate in #SAAM22 on social media and share a photo wearing teal on April 5th, Day of Action.
This year's campaign follows an important advancement for the #MeToo movement. In March, the president signed into law the Ending Forced Arbitration of Sexual Assault and Sexual Harassment Act. Under the new law, for the first time, employees have a choice to settle sexual harassment and sexual assault claims through an arbitrator or in court.
Commemorating awareness days or months is useful in shining a spotlight on important issues, however, real progress is made through ongoing efforts to educate, influence and motivate employees. Online training that is interactive, relevant to the workforce and provides practical actions that address real-life situations is an effective way to encourage positive behaviors and reinforce a work culture that is serious about preventing sexual harassment and other misconduct.
These are among the essential compliance training topics to help foster safe, respectful and harassment-free work environments throughout the year:
Preventing Discrimination and Harassment
Providing employees with training to prevent sexual harassment in the workplace is one of the building blocks for creating an ethical culture of compliance. To date, employers in New York/New York City, California, Illinois, Connecticut, Maine, Delaware and in certain industries in Washington State are required to provide sexual harassment prevention training to employees and managers, who have additional responsibilities to respond to harassment complaints and prevent retaliation against individuals who report misconduct.
Bystander Intervention
The Equal Employment Opportunity Commission (EEOC) and other workplace experts consider bystander intervention training one of the most effective ways to empower employees to take an active role in stopping harassment and preventing future incidents. By training employees how to safely step in when they witness someone being harassed, bystander intervention training also helps to foster a safe, supportive, respectful workplace culture.
Creating a Respectful Remote Workplace
The theme of #SAAM22 underscores the need for employees and managers to understand that harassment and other misconduct can take place in virtual environments. Training on how to create a respectful remote workplace helps foster a safe, respectful, and harassment-free work culture for all employees — whether they are virtual, onsite or in a hybrid work environment.
Diversity, Equity and Inclusion
As part of a multipronged strategy, training on diversity, equity and inclusion is a valuable tool to engage and motivate employees to be more inclusive in their thinking and actions and help to foster a sense of belonging. Training should equip employees with practical ways to recognize and manage unconscious bias and prevent microaggressions that, if left unchecked, undermine DEI efforts and make people feel judged, misunderstood, excluded and unsafe.
Code of Conduct
In today's evolving work environment, code of conduct training that is tailored to the organization is an effective way to reinforce a work culture in which employees are encouraged to speak up whenever they see or suspect harassing behavior or other wrongdoing. Code of conduct training should address the ethical and legal issues that are most important to the organization, using realistic scenarios and interactions that apply to employees' day-to-day work, whether they are onsite or in a remote or hybrid environment.
Traliant Insight
The goal of Sexual Assault Awareness and Prevention Month, which occurs every April, is to raise awareness and educate organizations and communities on how to prevent sexual harassment and sexual violence throughout the year. Providing ongoing training to employees and managers is one of the proactive tools to empower individuals to address, report and prevent harassing behavior, whether it occurs online or offline.