General Data Protection Regulation (GDPR)
GDPR globally affects how businesses handle data. Train your employees in navigating complex privacy laws to create a more ethical approach to managing information and protecting your business.
Better everyday decisions
Employees will understand the principles and impact of GDPR and become aware of their responsibilities. This helps them follow their daily tasks with clarity, ensuring the protection of all personal information.
The course covers these topics and more:
GDPR basics and key concepts
Legal basis for processing personal data
GDPR's data-use principles
Individual rights granted under the GDPR
Violations and penalties for non-compliance
Overview
General Data Protection Regulation (GDPR) Training
The General Data Protection Regulation, or GDPR, is a global law that governs how organizations collect, handle and process the personal information of people living in the European Economic Area (EEA). This includes the European Union, Norway, Liechtenstein and Iceland. Geography aside, the GDPR also applies to US organizations — and other organizations located anywhere in the world — if they process the personal data of EEA citizens or residents. Fines for violations can be severe, underscoring the importance of implementing policies, procedures and practices that help prevent data breaches.
Under the GDPR, personal data is any information that identifies an individual, either directly or indirectly, such as names, location information, internet activities and email addresses. In order to process personal data, the GDPR requires organizations to show that the individual consented to the collection or use of their personal data; or it furthers an organization's legitimate interests, meets a legal obligation, is in the public interest or protects a person's vital interests.
As part of a comprehensive data privacy and information security strategy, GDPR training grounds employees in GDPR basics and connects the dots between GDPR principles and how they apply in their day-to-day work.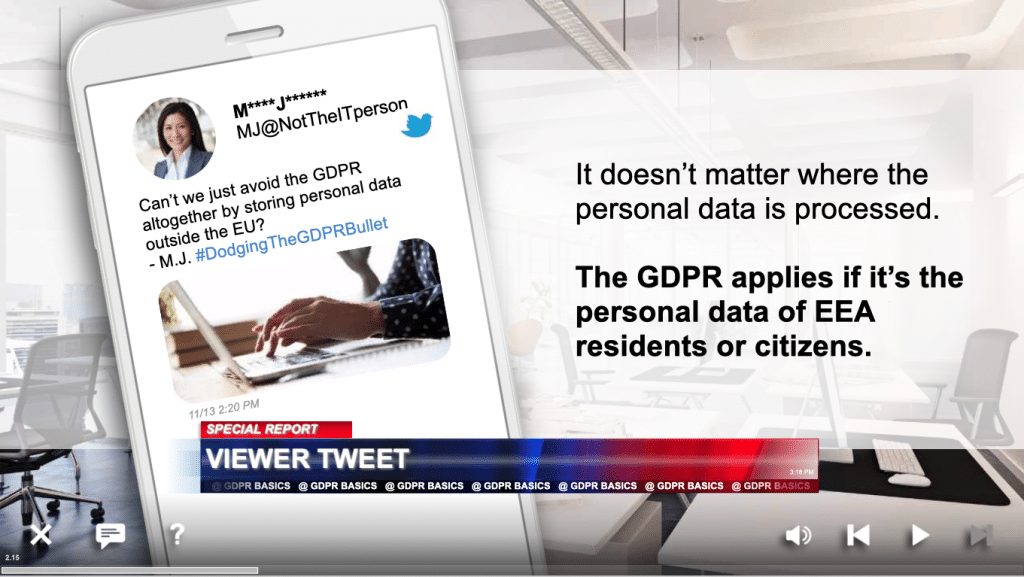 Online Training
General Data Protection Regulation (GDPR)
This 35-minute course provides an overview of the GDPR's requirements and responsibilities of organizations and individuals who handle the personal information of residents across the European Economic Area. Divided into interactive episodes, employees learn how this global law applies to their daily work and its impact on many of the organization's procedures and operations. The course includes real-world examples of costly GDPR violations, as well as interactive challenges and viewer questions about collecting and using personal data.

The Traliant difference
Our modern, interactive approach to online compliance training combines up-to-date content and eLearning strategies and technology to raise awareness, motivate positive behavior and foster respectful, inclusive workplaces. Traliant courses are mobile-optimized for access on any device and can be customized to reflect your organization's industry, policies, culture and branding.
Learn more about our training methodology
You may be interested in other courses from the same topic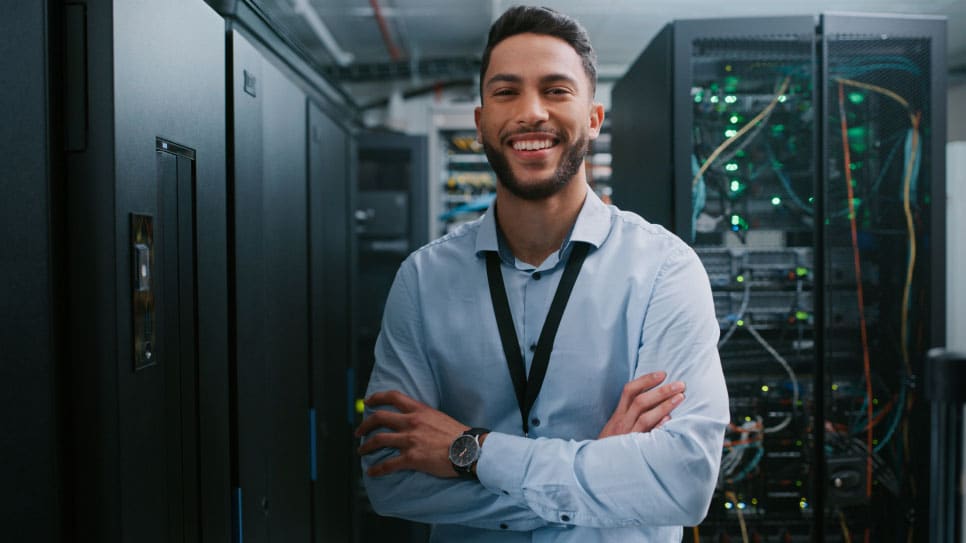 Cybersecurity and data privacy
6 courses
Protect data and prevent cyberattacks.

A thorough understanding of GDPR policies helps your business avoid privacy violations while building a trusting and stable relationship with all your stakeholders.
Help your employees make the right decisions, at the right moments