Phishing Training for Employees: Recognition and Prevention
Unknown digital threats can appear at any time and in any part of your organization. Educate and prepare your employees to prevent mistakes, encourage sound judgement, and keep your organization safe.
Better everyday decisions
Introduce the proper consideration and attention to the actions that employees take, ensuring that every team can immediately recognize and handle suspicious activity.
Topics covered include:
What Is Phishing?
Different Forms Of Phishing: Spear Phishing, Vishing, Smishing
Different Types Of Malicious Software
Recognizing Phishing Red Flags
What To Do To Prevent Phishing Attacks
Phishing Simulations
Practical Steps To Protect Sensitive Information
Overview
Phishing Training For Employees: Recognition And Prevention
Training on Recognizing and Preventing Phishing Attacks
Phishing is a term for a major cyber security threat that causes serious operational and financial damage to organizations every year. Like the rod and reel sport, phishing uses different baits and techniques to lure targets into sharing personal or confidential information or downloading malicious software via emails, text messages, phone calls, and social media.
The global pandemic, along with more employees working remotely, has given hackers new opportunities to take advantage of human emotions and trick people into divulging information and compromising systems. In 2021, 83% of organizations said they experienced phishing emails.
As part of a comprehensive cyber security training program, phishing training explains how phishing scams work and prepares employees to recognize different techniques and avoid the risks of costly cyber attacks.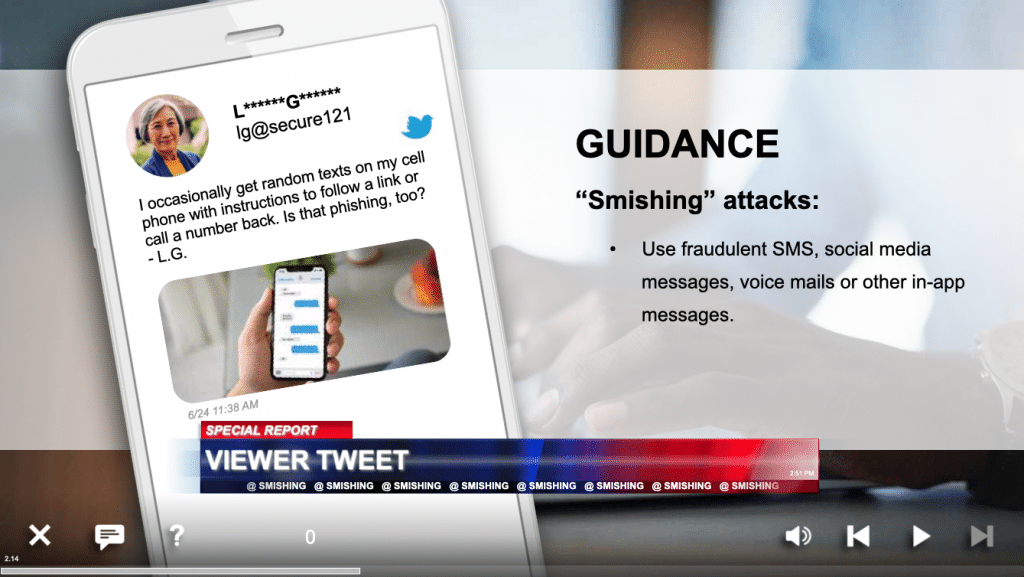 Online Training:
Recognizing and Preventing Phishing Attacks
This 20-minute interactive phishing course for employees and managers explores the risks posed by phishing — a serious cyber threat to organizations and individuals. Interactive simulations, practice scenarios, and viewer emails and tweets provide insights and practical tips for spotting common forms of phishing, preventing phishing and spear-phishing attacks, and keeping information security top of mind.
How Does Phishing Training Work?
Throughout our phishing training, we cover many different topics, including:
What Phishing Is
Phishing is a type of social engineering where a person sends a malicious email disguised as something non-threatening with the purpose of collecting private or sensitive information. Often passwords, pins, and card numbers are the target of a phishing campaign.
The Different Forms Of Phishing
Spear Phishing: Spear fishing involves using standard phishing techniques to target specific people within an organization.
Vishing: Vishing is a type of phishing that takes place over the phone and through voicemail.
Smishing: Smishing is a type of phishing that takes place through text messages.
The Different Types Of Malicious Software
Our phishing training program provides a comprehensive understanding of many different malicious software programs, including spyware, trojans/trojan horses, adware, worms, ransomware, keyloggers, and more.
Recognizing Phishing Red Flags And Preventing Attacks
Ensure your staff has the tools and knowledge they need to recognize red flags and stop a phishing scam before it can damage your organization.
Phishing Training: Easy and Effective
The phishing and security awareness training that we offer is practical. We ensure that email phishing emails are realistic and reflect what a real phishing attack could look like. We provide an employee training course that is useful for staff at all levels within a business structure. Phishing training can save your business an unprecedented amount of time and money. Think about the ramifications that can come from an employee accidentally exposing confidential information to someone with malicious plans. Your business can avoid major headaches with the help of our training awareness programs that easily and effectively inform your employees about the dangers of real-world attacks.

The Traliant difference
Our modern, interactive approach to online compliance training combines up-to-date content and eLearning strategies and technology to raise awareness, motivate positive behavior and foster respectful, inclusive workplaces. Traliant courses are mobile-optimized for access on any device and can be customized to reflect your organization's industry, policies, culture and branding.
Learn more about our training methodology
You may be interested in other courses from the same topic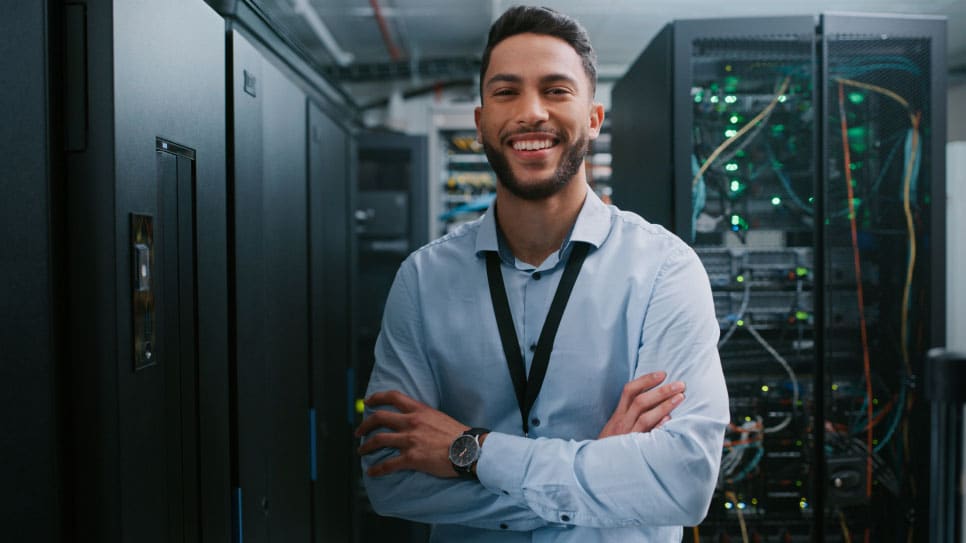 Cybersecurity and data privacy
6 courses

Preventing phishing reduces personal and corporate risk and ensures that your business is secure and that your stakeholders trust your processes.
Frequently Asked Questions (FAQs)
Yes. People that take phishing training courses and have a better understanding of red flags to be on the lookout for are less likely to fall victim to a phishing attack.
Successful phishing attempts can create a medley of issues for any organization. Suppose the wrong person falls for a phishing scam. In that case, your business can take a major hit in many ways, including compromised business and consumer data, vulnerable pins and passwords, and even damage to your organization's overall reputation.
Employees should be aware of common red flags like incorrect (yet similar) email addresses, grammatical and spelling errors, alleged content winnings, and suspicious attachments.
Help your employees make the right decisions, at the right moments