Retaliation Training Course
Creating an environment where employees are free to safely and confidentially report discrimination and harassment enables teams to create a culture of trust and respect, and lets organizations avoid retaliation claims.
Better everyday decisions
Employees will come away with the tools to recognize and prevent various tangible and intangible forms of retaliation and how to support teams in creating a positive workplace.
The Avoiding Retaliation Training Course covers:
What retaliation is and when and how it can occur
The legal impact of retaliatory actions
Guidelines for avoiding conduct that may be viewed as retaliatory
Activities that are protected from retaliation
Examples of retaliatory actions
Responding to complaints
Documenting complaints and tangible employment actions
Overview
Avoiding Retaliation Training
Retaliation training is one of several positive steps that organizations can take to prevent workplace discrimination and harassment and reduce the risk of retaliation incidents and claims. Retaliation consistently ranks as the number one charge filed with the Equal Employment Opportunity Commission (EEOC). In a large number of cases, it's common for an original discrimination charge not to be found in violation of the law, however, the retaliation allegation may still be proven.
Simply put, discrimination claims are separate from retaliation claims — an important distinction that underscores the importance of training employees in supervisory positions how to recognize and prevent retaliation and manage the risk of violations and claims.
What is Retaliation?
Retaliation occurs when an employer punishes an employee for reporting discrimination, harassment or other misconduct. Retaliation can come in different forms, including tangible employment actions such as firing, demotion, reassignment and negative evaluations. It can also involve more subtle actions like spreading false rumors, making threats, denying benefits or changing a work schedule to create a conflict.
In addition to protecting employees from retaliation for reporting discrimination, the law applies to other protected activities such as:
Participating in a discrimination investigation or lawsuit (serving as a witness)
Opposing discrimination (refusing to follow orders that would result in discrimination)
Communicating with a supervisor or manager about discrimination or harassment
Resisting sexual advances or intervening to protect others
Requesting accommodation for a disability or religious practice
Supervisors need to recognize and avoid even the appearance of retaliatory behavior toward employees who report workplace misconduct. It's also their responsibility to ensure that non-supervisory employees do not engage in behavior that could be considered retaliation.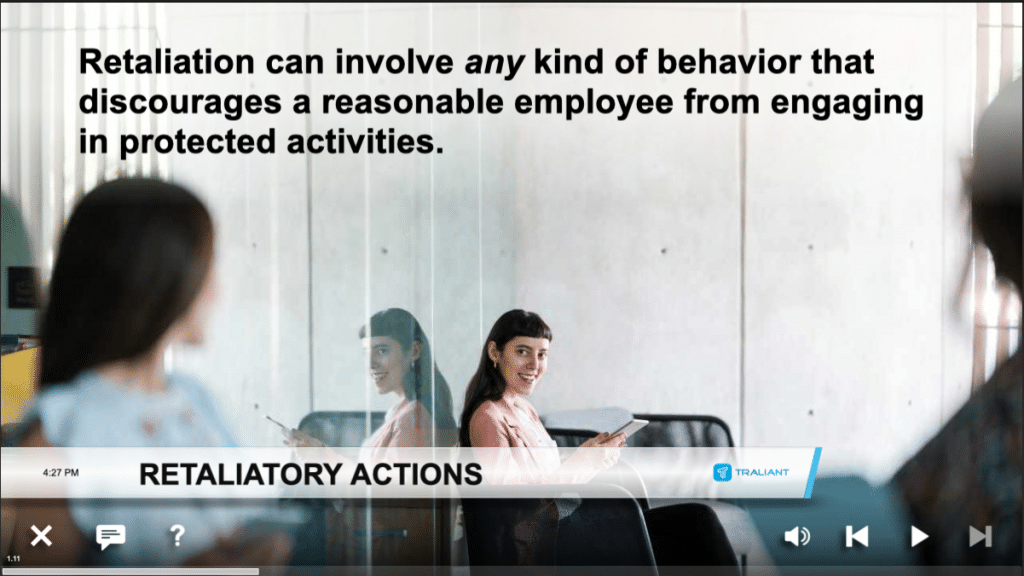 Online Training
Avoiding Retaliation
This 15-minute, stand-alone course is intended for employees in supervisory roles, who may deal with complaints of discrimination and harassment.  Avoiding Retaliation reinforces the importance of keeping all forms of retaliation out of the workplace and responding promptly and effectively to complaints.

The Traliant difference
We believe that increasing awareness of retaliation is an important part of an effective anti-discrimination and harassment program. Our training course on Avoiding Retaliation is part of Traliant's holistic approach to preventing harassment and discrimination and building a respectful, inclusive culture.
Learn more about our training methodology
You may be interested in other courses from the same topic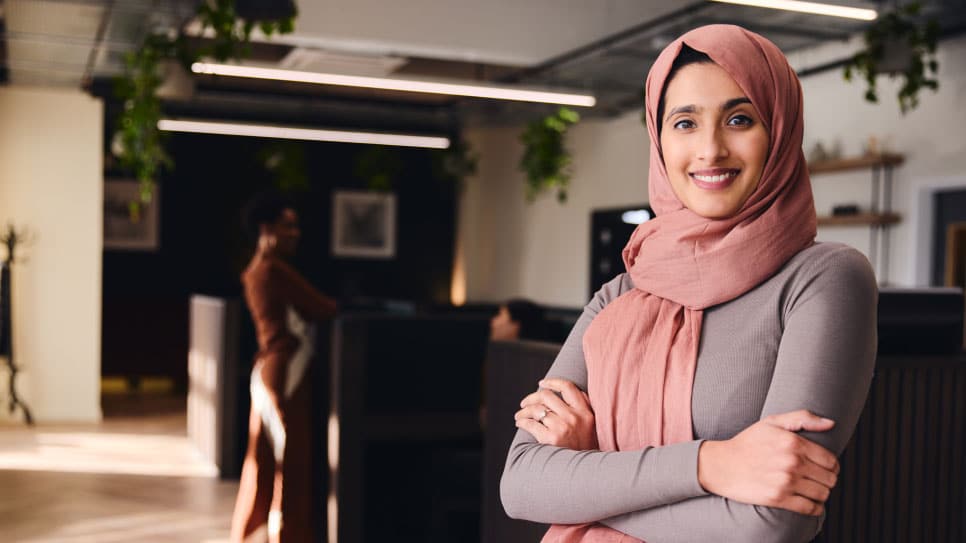 Discrimination and Harassment
9 courses
Address and prevent workplace misconduct.

Beyond avoiding retaliation claims that can be costly and damaging to a business' reputation, this course also gives employees the knowledge to make better everyday decisions that foster an inclusive workplace.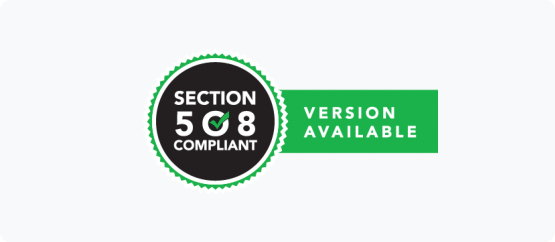 Section 508 Compliant version
Built for everyone
There is nothing more inclusive than providing an easy, consistent, and accessible experience for all of your employees. Traliant provides Section 508-Compliant training that detects and adapts to the individual learner. Our Avoiding Retaliation course is designed to accommodate a range of auditory, visual, intellectual, and kinesthetic abilities.
Help your employees make the right decisions, at the right moments