Creating a Positive Work Environment Training
In times of change and uncertainty, employees look for guidance from their managers. Help your leaders step up and create a healthy work environment to help your organization succeed.
Better everyday decisions
Empower your managers with the right insights to motivate and inspire their teams to reduce workplace stress and enable a culture of accomplishment.
The course covers these topics and more:
Benefits of creating a positive work environment
How emotions affect the workplace
Toxic behaviors and disengaged employees
Factors that motivate and empower employees
Rewarding positivity
Leading by example
Overview
Creating a Positive Work Environment Training
Training managers on how to create a positive work environment has many benefits for organizations, employees and customers. Research shows that a positive workplace culture in which employees feel engaged and appreciated can increase productivity, improve customer experience and reduce workplace stress, employee absenteeism and turnover.
Especially during times of uncertainty and change, employees look to managers and supervisors to lead the way in creating a respectful, inclusive and harassment-free work culture where individuals can thrive and organizations succeed.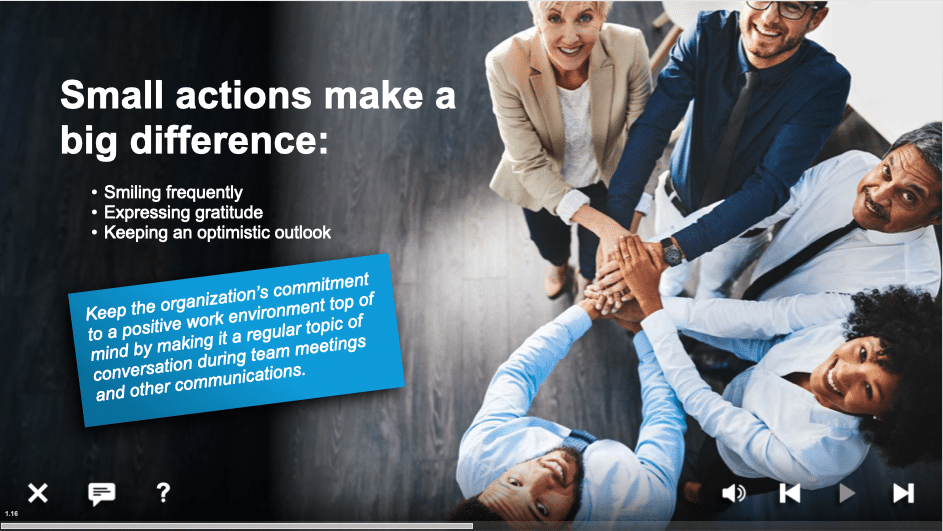 Online Training
Creating a Positive Work Environment
This 20-minute, interactive course provides managers with practical insights and actions to promote and communicate a positive workplace culture. Managers gain an understanding of their leadership role in rewarding positive attitudes, inspiring teamwork and stopping the spread of toxic behavior. Interactive knowledge checks and viewer email segments address common questions and reinforce how both big and small actions can accentuate the positive.

The Traliant difference
Traliant creates modern, interactive training courses to help organizations meet the challenges of today's workplace. We bring together an experienced team of subject matter experts, eLearning specialists, instructional designers and video producers to create interactive learning experiences that raise awareness, drive positive behavior and help foster a respectful, inclusive workplace.
Learn more about our training methodology
You may be interested in other courses from the same topic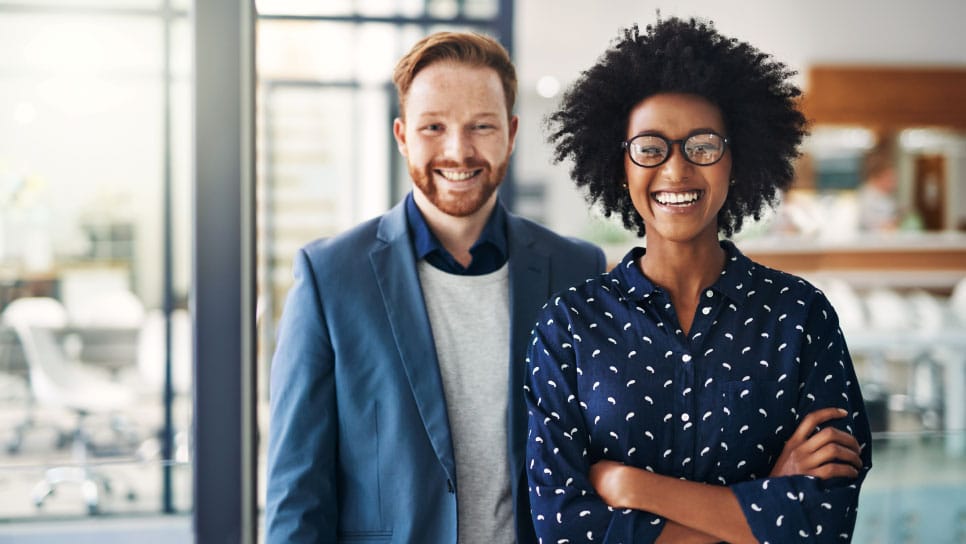 Building a Positive Workplace
4 courses
Where employees feel safe, valued, and motivated.

Inspire your employees. Working in a positive environment not only empowers everyone to feel comfortable but also increases the productivity of your teams, helping every individual thrive.
Help your employees make the right decisions, at the right moments