Emergency Preparedness and Response
Training employees on emergency preparedness and specific action plans prepares them to quickly respond during a potentially life-threatening situation.
Better everyday decisions
When employees are trained on Emergency Action Plans, they are better equipped to respond to emergencies and understand the necessary steps to escape dangerous situations that might occur in their workplace.
This course covers these topics and more:
The importance of Emergency Action Plans (EAP)
The importance of Fire Protection Plan (FPP)
Benefits and purpose of an Emergency Action Plan (EAP)
Required elements of an Emergency Action Plan (EAP)
Overview
Benefits of Emergency Preparedness and Response Training
Emergency situations such as a fire or other potentially life-threatening emergencies can occur unexpectedly at any workplace. Providing employees with Emergency Action Plan training will ensure they know the necessary steps to follow during an unforeseen emergency. Training helps empower employees to respond effectively to emergencies, potentially saving lives and minimizing injuries or property damage.
The Occupational Health and Safety Administration (OSHA) recommends that all employers have an Emergency Action Plan (EAP) to describe the actions employees should take to ensure their safety in an emergency. An EAP plan is mandatory when required by an OSHA standard. Employers are responsible for providing training and having an EAP should an emergency occur.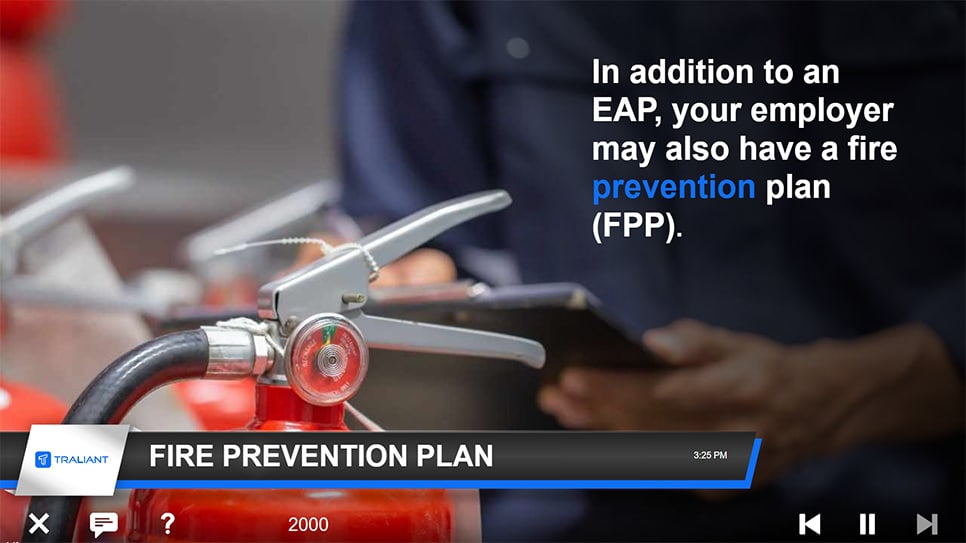 Online Training
Emergency Preparedness and Response Training
Traliant's Emergency Preparedness and Response training is a 25-minute course that provides response and guidance on different workplace emergencies for both on-site and remote workers. Topics include the required elements of an Emergency Action Plan and Fire Prevention plan, and what employees should know about exit routes in the event an evacuation is required.
Emergency response training helps employers ensure the safety and well-being of employees in the event of an emergency. This training provides employees an opportunity to review guidance and procedures for different shelter-in-place emergencies unique to their environment, work setting and geographic location.

The Traliant difference
Our modern, interactive approach to online compliance training combines up-to-date content and eLearning strategies and technology to raise awareness, motivate positive behavior and foster respectful, inclusive workplaces. Traliant courses are mobile-optimized for access on any device and can be customized to reflect your organization's industry, policies, culture and branding.
Learn more about our training methodology
You may be interested in other courses from the same topic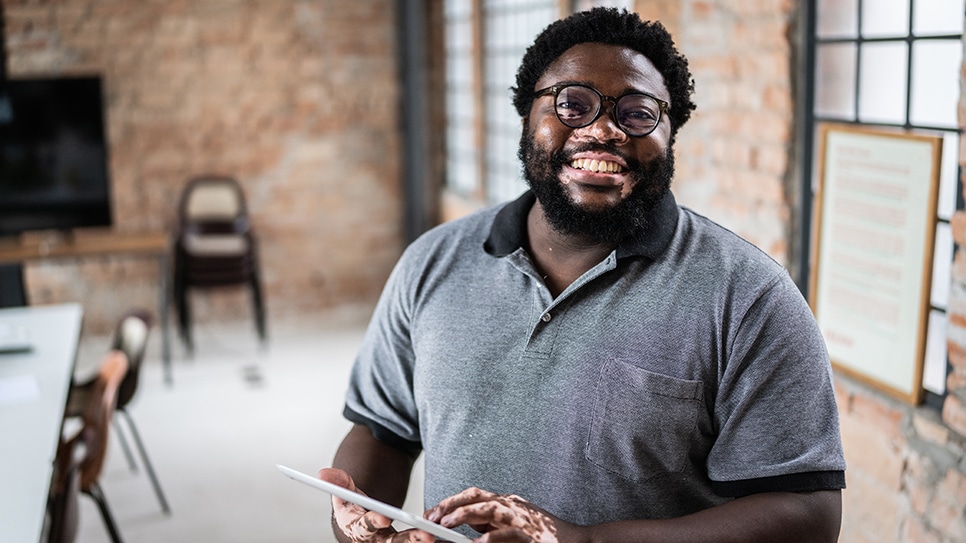 Environmental, Health and Safety Training
14 courses

When employees know how to respond during a crisis, it reduces confusion and panic and provides a sense of empowerment that can lead to better decision-making and potentially save lives.
Help your employees make the right decisions, at the right moments