Environment Health & Safety
Your employees' health and well-being are a priority. Protect your organization and your teams by helping create a secure environment both inside and outside the workplace.
Better everyday decisions
With the right tools and a deeper awareness of risks, employees will know how to navigate their jobs safely and safeguard themselves and their coworkers against risk.
The course covers these relevant topics and more:
What is Environment, Health & Safety (EHS)?
Key EHS laws
Different types of workplace hazards
PPE (personal protective equipment)
MSDs (work-related musculoskeletal disorders)
Office ergonomics
Worker health and wellbeing
Physical security
Information security
Workplace violence
Emergencies and emergency action plans
Fire safety
Environmental concerns
Reporting hazards or concerns
Overview
Environment Health & Safety Training
Environment, health and safety or EHS is everyone's responsibility in the workplace. EHS includes laws, initiatives and behaviors that protect the health and safety of employees, the environment and the public, inside and outside of the workplace.
EHS should be a priority for all organizations, not only those in high-hazard industries. Workplace accidents, COVID incidents, cybercrime and environmental risks are just some of the EHS challenges that affect organizations across industries.
Providing EHS training is an important step in raising awareness of EHS issues and equipping employees with the knowledge, tools and practical actions they need to do their jobs safely and effectively, reduce security risks and ensure that the organization complies with industry regulations.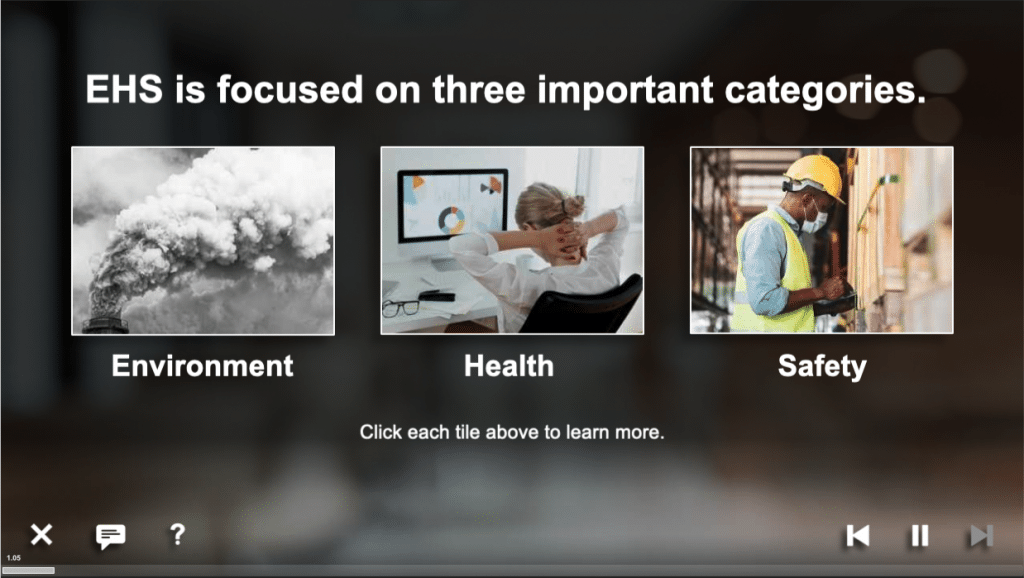 Online Training
Environment Health & Safety
This 30-minute interactive course introduces employees and managers to crucial EHS topics and their role in ensuring a safe, secure and healthy work culture. A video host guides learners through 3 brief episodes that feature real-world examples and everyday actions that help employees stay healthy and safe and reduce EHS risks. Viewer email, tweets and other interactions reinforce key concepts, address common questions and boost knowledge retention.

The Traliant difference
Our modern, interactive approach to online compliance training is designed to help organizations create a work culture that is safe, healthy, secure and compliant. Traliant courses are mobile-optimized for access on any device and can be customized to reflect your organization's policies, culture, branding and leadership message.
Learn more about our training methodology
You may be interested in other courses from the same topic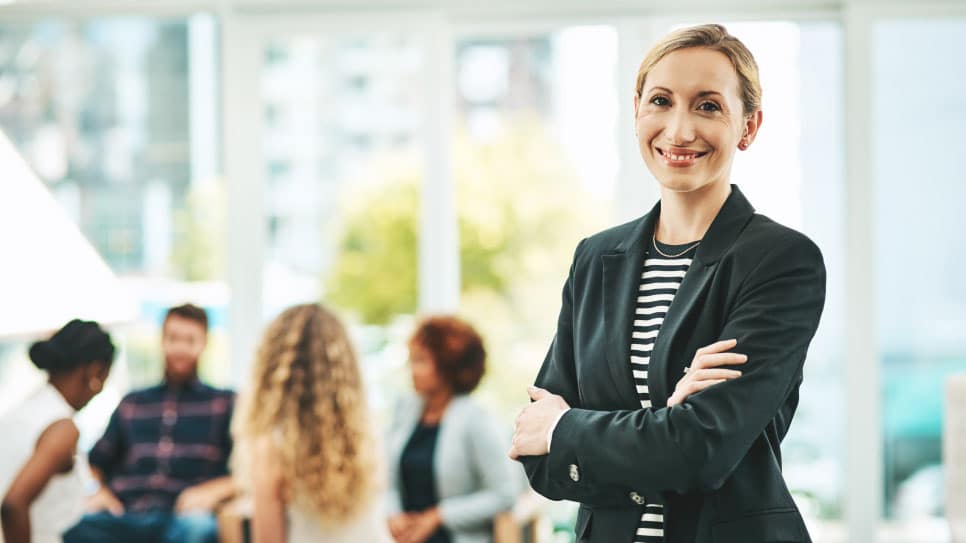 Preventing & Responding to Workplace Threats
6 courses
Train employees to recognize the warning signs.

Ensuring a risk-free work environment helps your employees stay focused on their tasks and execute their jobs effectively, strengthening your entire organization.
Help your employees make the right decisions, at the right moments