COVID-19: Returning to the Workplace
As employees start returning to physical work environments, training that prepares them for how the workplace has changed helps create reassurance and legal compliance.
Better everyday decisions
Help employees navigate a new workplace by answering questions, preparing them mentally and physically, and creating an environment of trust.
The course covers:
Preparing to return
Arriving at the building
Protecting yourself and others
Information on COVID-19 vaccines
Physical distancing
Navigating common areas
Personal Protective Equipment
On-site visitors
Off-site visits
Vaccines/Boosters
Dealing with rule breakers
Additional guidance for managers
Resources: including links to the CDC, EEOC, OSHA and state health departments
Overview
COVID-19: Returning to the Workplace Training
Organizations have faced major disruptions due to Covid-19, affecting employees, customers, partners and others, inside and outside of the workplace. With vaccines widely available and employees returning to work, it's important to prepare employees physically and psychologically to return to a changed workplace.
In addition to complying with mandates and guidance from federal, state and local officials and the medical community, organizations need to address employees' COVID-19 questions and concerns and reassure staff of the steps that are being taken to protect everyone's health, safety and well-being.
While every organization's circumstances are different, a return-to-work training course helps to prepare employees to navigate the many changes they may find and communicate leadership's compassion and empathy during these challenging times.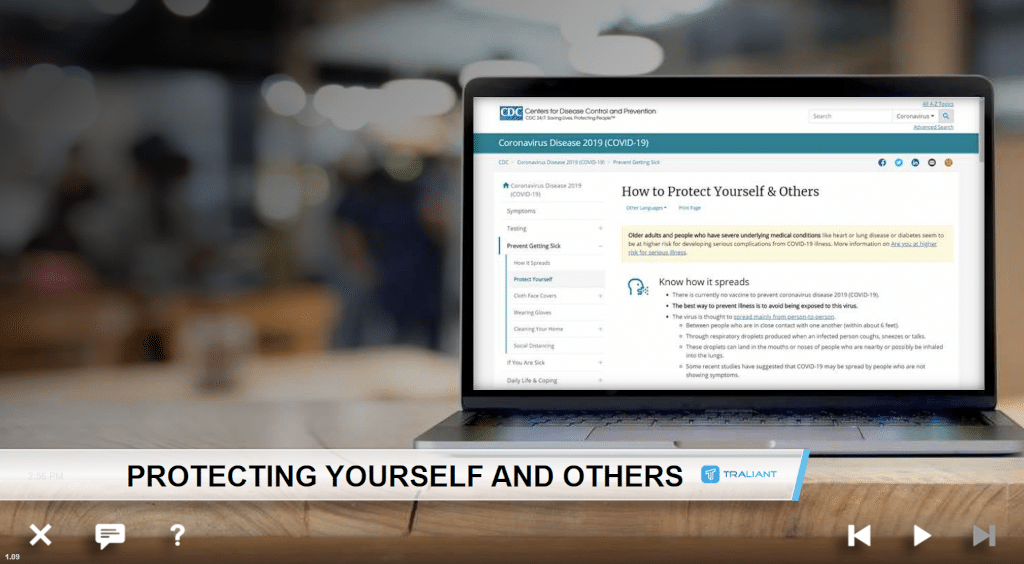 Online Training
COVID-19: Returning to the Workplace
COVID-19: Returning to the Workplace is a 25-minute eLearning course designed to prepare employees physically and psychologically to return to work. It is intended for employees to complete before they return to the onsite workplace. This course includes information and resources on COVID-19 vaccines, and state-specific requirements that are dynamically updated.  There is also a certificate of completion which employees can print out and bring with them on their first day back. Organizations have the option to customize the course with their branding, introductory video and specific return-to-work policies and guidelines.

The Traliant difference
From preventing sexual harassment and discrimination to preparing for a safe return to work during the COVID-19 pandemic, Traliant is dedicated to creating modern, interactive training to help organizations meet the challenges of today's workplace and foster a respectful, inclusive culture.
Learn more about our training methodology
You may be interested in other courses from the same topic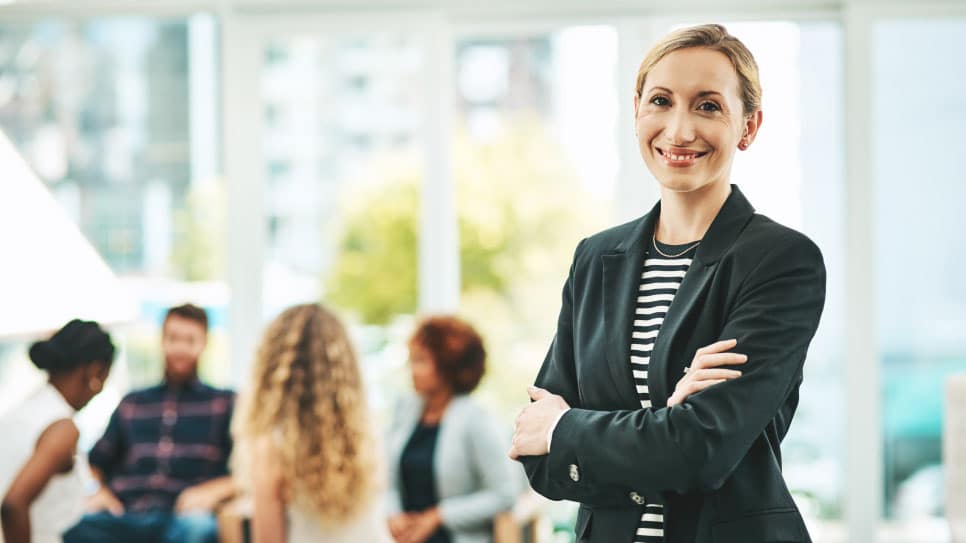 Preventing & Responding to Workplace Threats
6 courses
Train employees to recognize the warning signs.

Preparation is key. When employees know what changes to expect and are aware of the guidelines in place to protect everyone, they create a personal and shared sense of responsibility.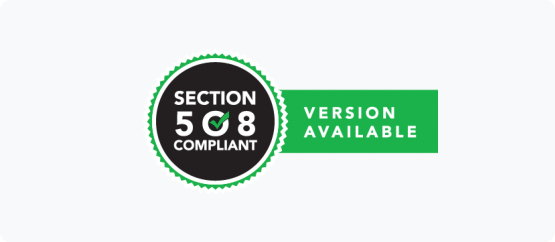 Section 508 Compliant version
Built for everyone
There is nothing more inclusive than providing an easy, consistent, and accessible experience for all of your employees. Traliant provides Section 508-Compliant training that detects and adapts to the individual learner. Our COVID-19: Returning to the Workplace course is designed to accommodate a range of auditory, visual, intellectual, and kinesthetic abilities.
Help your employees make the right decisions, at the right moments