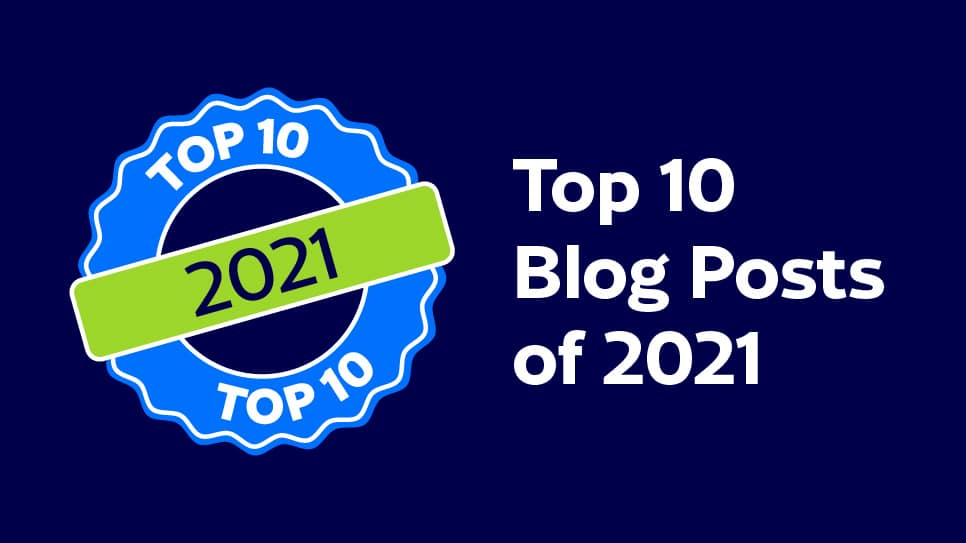 December 21, 2021
For HR, compliance and learning leaders, 2021 has been predictably unpredictable and it's likely to stay that way for a while. Managing a remote/hybrid workforce, advancing diversity, equity and inclusion, preventing sexual harassment and discrimination, raising awareness of cyber security and improving employee health & wellbeing are among the challenges organizations should continue to keep on their radar in 2022.
In the new year, we look forward to sharing more timely stories, useful information and actionable insights to help you create and nurture a safe, ethical work culture. As we wrap up 2021, here are our top 10 most-visited blog posts:
10.   Costly EEOC Lawsuits Underscore Need for Workplace Discrimination Training
This post recaps some of the EEOC's settlements announced last December, underscoring many of the enforcement priorities for the agency: age discrimination, pregnancy discrimination, national origin discrimination and sexual harassment and retaliation. The message is clear: keeping policies, practices and compliance training up to date with laws and regulations are among the measures that organizations can take to prevent workplace discrimination and avoid financial and reputational damage.

9.   4 Diversity, Equity and Inclusion Trends Shaping Workplaces in 2021
These DEI trends are poised to continue to influence workplace policies and practices in 2022. They include offering benefits that address the needs of a diverse workforce, building DEI into remote work policies and talent management, and fostering a culture of trust where employees feel comfortable asking questions and raising concerns.

8.    6 Ways Organizations Can Improve Cultural Competency and Inclusion
In today's multicultural world, organizations can enjoy many benefits from a workforce that can interact effectively across cultures and rise above biases. This post describes the concept of cultural competence and humility, why it matters and how it can improve employee engagement, teamwork, decision-making, innovation and customer satisfaction.

7.    How Do You Build An Effective DEI Strategy for 2022 and Beyond?
This is one of several posts we devoted to our DEI report and roundtable session at SHRM's 2021 Conference & Expo. In this post, panelist Nichole Hoskins, director of people and culture at The Mars Agency, shares her perspectives on what organizations can do to lay the foundation for DEI success and maturity.
6. 7 Employment Law Essentials Every Manager Should Know
From ensuring fair interviewing and hiring practices to appropriately handling harassment complaints, managers and supervisors need a basic understanding of the essential workplace laws and how they apply to their job responsibilities to create a fair, compliant workplace and prevent violations and costly claims.

5. Why Diversity, Inclusion & Equity Training is More Important Than Ever
As part of a multipronged strategy, diversity training is a valuable tool in every organization's DEI toolbox. This post discusses how a modern, behavior-based approach to training is a more effective way to engage, educate and motivate employees to be more inclusive in their thinking and actions.
4. 4 Ways Managers Can Build a Positive Work Environment
Polls and research show that a positive company culture can improve workplace productivity, employee engagement and business success. This post explores different ways that managers can foster a positive work environment and create a healthy, inclusive work culture where individuals can thrive and organizations succeed.
3. 6 Steps to Creating an Effective Diversity, Equity and Inclusion (DEI) Program
From clearly defining goals to setting benchmarks and reinforcing DEI values with ongoing training and communication, this post focuses on six actionable steps that help organizations create and maintain a successful DEI program.
2. 12 Red Flags to Help Hospitality Staff Recognize Signs of Human Trafficking
While the global crime of human trafficking spans many different sectors, traffickers often take advantage of the privacy and anonymity of the lodging industry to conduct their crimes. This post discusses some of the common behaviors and indicators of human trafficking that front desk, security, valet and housekeeping staff may encounter when performing their jobs.
1. 5 Questions Unconscious Bias Training Should Answer
Everyone has unconscious bias — preferences for and against something. It's the way the human brain processes a constant flow of information and makes sense of a complex world. However, when people aren't aware of their biases they can't manage them, which can lead to discriminatory practices and undermine DEI efforts.This post highlights the key topics that effective unconscious or implicit bias training should address.
The Traliant Team Wishes You a Happy, Healthy, Safe Holiday Season and New Year!