Can You Prove Your Compliance Training is Effective?
We can! True effectiveness is measured by employees who say they will apply what they learned to their day-to-day interactions—not by the number of course completions.
Why are Traliant Courses so Effective?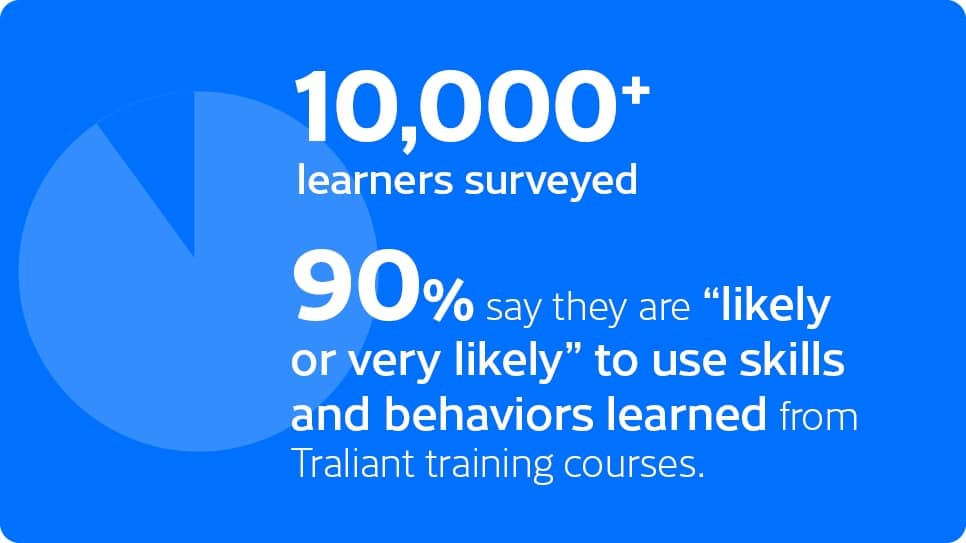 Behavior-based approach focuses on actions, not just laws.
Traliant courses clearly explain the individual behaviors and best practices that individuals should adopt to foster a culture of inclusivity, respect and compliance.
Interactive training you don't just watch, you experience.
Employees are engaged in active learning and practicing what they've learned — not just clicking "next."
Fast, simple & powerful course customization.
We make it easy and affordable to fully customize Traliant courses with your branding, policies and leadership message to reflect your company culture and resonate with employees.
Invest in Training That's Effective
Make sure you are getting the best return on your training investment! Let us help you build an effective training program to realize true behavioral change and keep your organization compliant.
Traliant's Courses are Preferred by 8,000+ Organizations